H.R. Wentzel & Sons Mill
Perry Co. | Pennsylvania | USA | 1878
Township: Oliver Twp / Newport Boro. | Watersource: Big Conewago Creek.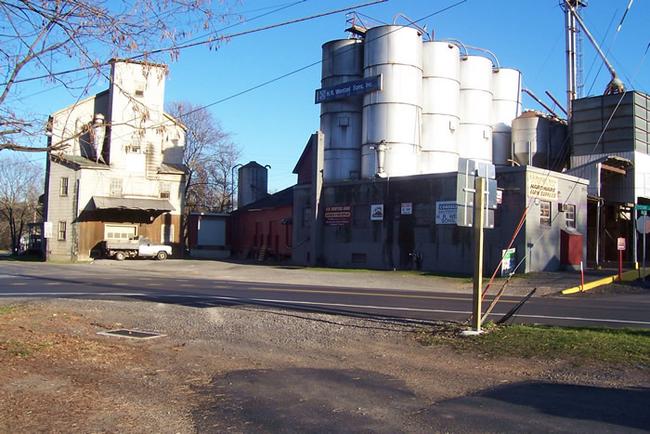 Picture: Robert T Kinsey 12/07/2006
The business at this location began in 1878 when W. H. F. Garber constructed a three story frame warehouse for the storage of grain and the sale of feed. In 1890 the business was sold to Theophilus Butturf, who operated a bottling works next door to the mill. It is unsure what type of business Butturf operated in the mill.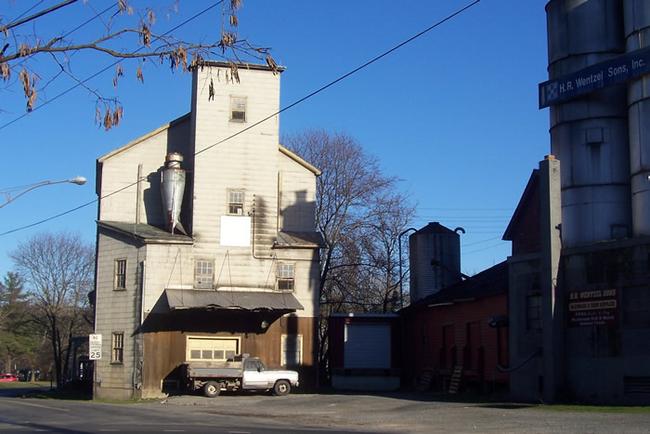 Picture: Robert T. Kinsey 12/07/2006
In 1925, Maurice Miles took over the building after the death of Butturf. Miles' main business was selling coal. He also sold cement, sand, and some feed. On Sept. 29, 1930 the property was purchased by Henry R. Wentzel & sons, George and Miles. They immediately added bucket elevators and 6 grain bins.
Picture: Robert T. Kinsey 12/07/2006
At this time the Wentzels already operated a successful feed business in Bridgeport, Perry Co. They decided to manufacture feed, do custom grinding, and handle grain and feed ingredients. Their first hammer mill was a 40 horsepower Jaybee belt-driven mill. They installed a Puritan Blender; since, molasses was becoming an important ingredient in feed.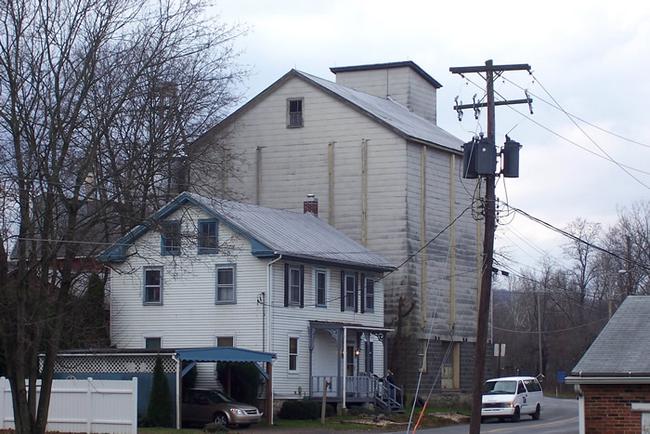 Picture: Robert T. Kinsey 12/07/2006
The reason the Wentzels purchased a mill at this site was because of the availability to buy grain by rail. The business was so good that additional machinery had to be installed. Dairy, poultry, and hog feed were all manufactured here. Later on an Anglo-American pellet mill was purchased. In less than two years a second mill was added. At this time both of the Wentzel mills had a manufacturing capacity of one to one and one-half tons/hour.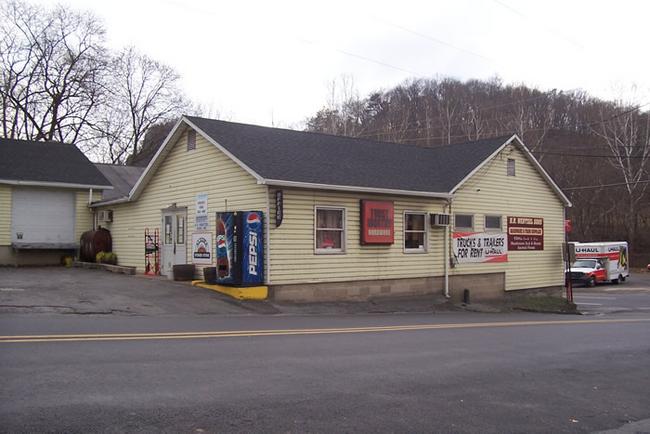 Picture: Robert T. Kinsey 12/07/2006
H.R. Wentzel's Hardware & Farm Supplies retail outlet. Features of which include coal, bulk & bag; mushroom soil & mulch; animal feeds; and the usual variety of farm tools, stock medicines, etc.
Picture: Robert T. Kinsey 12/07/2006
A large part of the mill was destroyed by a fire on May 1, 1957. Rebuilding started right after clean up. This time metal bins were purchased. The new plant was put into operation on May 1, 1958. A new farm supply and hardware store was built in early 1978 across the street from the mill. Since 1930, the operation has grown from two men to between 24-28 men by 1978. The mill is still operating today which marks about 129 years of continually producing grain and feed.
One day in your temple is better than a thousand anywhere else. I would rather serve in your house than live in the homes of the wicked."
(Psalm 84:10 CEV)
Directions: Located on the corner of S. 4th St/Sh 34 and Bloomfield Ave. in Newport Boro.
Upload Pictures