Schantz's Oil/Grist Mill
Lehigh Co. | Pennsylvania | USA | Earlier-1765/Present-1824
Township: Lower Milford Twp. | Watersource: Hosensack Creek
Picture: Jim Miller 04/1981
Schantz's Oil Mill is pre-1765 at this location. Present mill built 1824 as a linseed oil mill. The linseed was hauled to Philadelphia by four-horse teams until the Perkiomen Railroad was built. Linseed oil was a large component of the paint industry, first as a major base for the paint; and second as a solvent for cleanup after painting. It was converted to flour manufacture in the 1860's and closed entirely in 1927. Ownership has been in the Schantz family for over six generations. Hosensack Creek takes it name from the Pennsylvania Dutch dialect, "Hussa-sock" translates to "pants pocket" in English.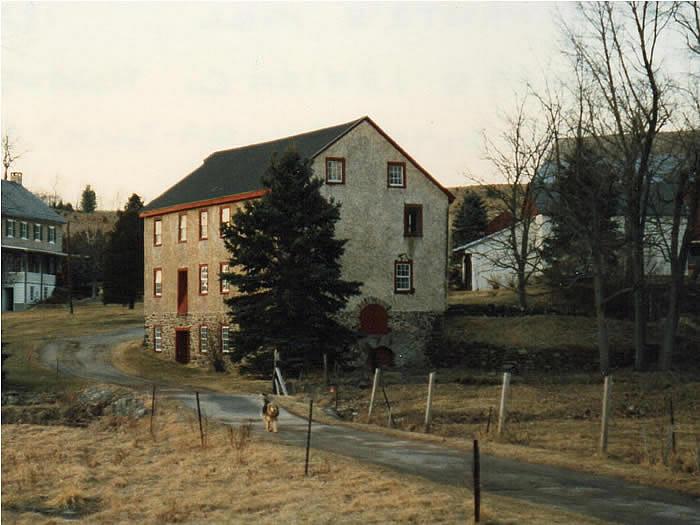 John Schantz emigrated from Germany in 1749. Flour mill was also a grist mill, especially in later years. The 35x55 foot 3.5 story stone mill has the upper 2.5 stories of beige stucco over stone. The building is then trimmed in red and is very nicely presented.
Directions: Take Pa.663 west from the Northeast ext. of the Pa.Turnpike(Pa.9). Right turn onto CR 914 for half-mile to Geryville. Take State Rural Route 09014 about one mile to Krassdale. At the Bucks/Lehigh County line, the SRR changed to 39001. From Krassdale travel 2 Miles to community of Hosensack, not much more than a tavern and few houses; then take right turn onto SRR 39002 and continue less than one mile to mill on left. Mill is in lane with a cluster of mill, mill house, barn and other outbuildings.
Upload Pictures