Dallas Feed & Seed, Inc / Old Mill Feed & Garden
Polk Co. | Oregon | USA | u/k
Township: u/k | Watersource: Electric or steam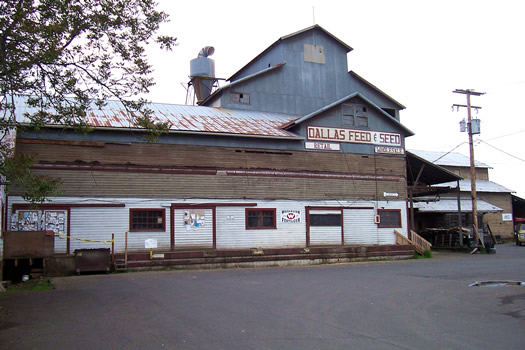 Picture: Jim Miller 04/2005
A large frame mill structure located just 4 blocks from the county courthouse.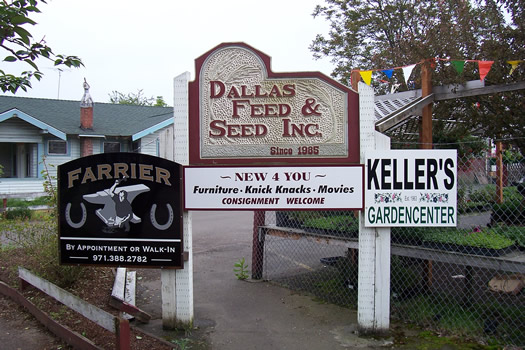 Picture: Jim Miller 04/2005
The Dallas Feed & Seed, Inc shares facilities with a Garden Supply business and a Farrier, a blacksmith/ horseshoer, and a antiques/collectables store named New 4 You.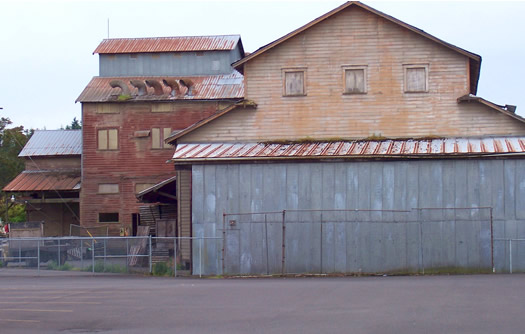 Picture: Jim Miller 04/2005
It is still being operated as a feed mill, supplying local farmers with livestock feed and seeds for planting.
Picture: Jim Miller 04/2005
The large mill looks to have had some of its structure torn away on the back side toward the railroad siding.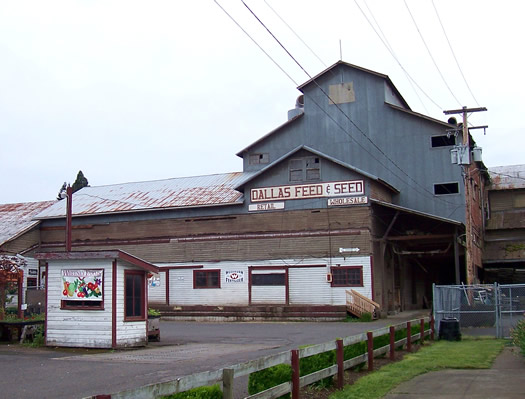 Picture: Jim Miller 04/2005
The mill with the weigh scale and scale house to the left foreground. More info requested from those who might like to share.
*Update: The current owners are retiring. My wife and I plan to renovate the Dallas Feed & Seed building as an independent feed and garden business, Old Mill Feed & Garden, opening in July of this year, 2007. The equipment will be shut down, but left in place for posterity. The biggest issue is the roof, which will be replaced in sections as we are able. The worst section of roof will be replaced this summer. We are removing a porch which was added on after the time of your photos. We're installing a canvas awning the full length of the loading dock. The building has operated as a feed store for 90 years, we hope our repairs prepare it to last another 90*
"I have chosen David as my first-born son, and he will be the ruler of all kings on earth. My love for him will last, and my agreement with him will never be broken."
(Psalm 89:27 & 28 CEV)
Directions: Located 4 blocks west of the Polk County Courthouse but on the north side of Main Street between SW Ash & SW Birch Streets, north to south, and to SW Church St to the west of Main Street. the mill encompasses about a 4 block square including several houses and an old school.
Upload Pictures