Hadley Flour & Feed Mill
Lapeer Co. | Michigan | USA | 1873-74
Township: Hadley Twp. | Watersource: Mill Creek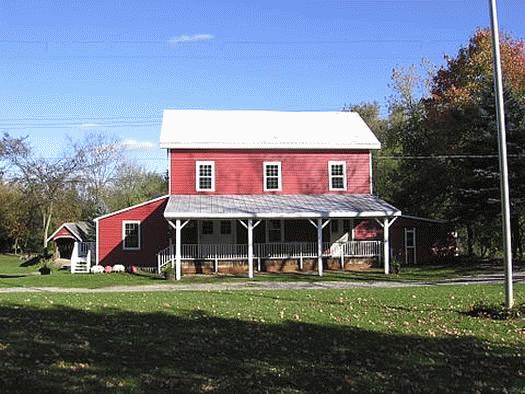 Picture: Kent Copeman 10/09/2006
The Hadley Flour & Feed Mills, or Hadley Mill as it is now known, is an old landmark in Hadley, Michigan. The mill, built around 1873 or 1874 by Peter Slimmer, is the third mill erected on the present site. The first two were built by Edward Fortune: the first around 1845 and the second in the early 1860's. It was owned in 1885 by John Mower and by Lee Miller around 1900. The town of Hadley was almost named Fortuneville after Mr. Fortune.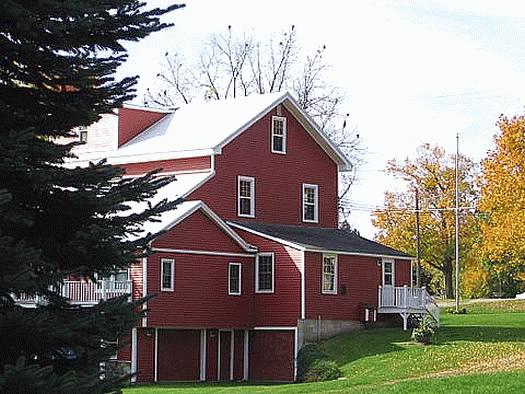 Picture: Kent Copeman 10/09/2006
The power to run the mill came from a water turbine which was placed under the mill at the base of the water flow from Mill Creek. This, in turn through large wooden and metal gears, drove line shafts to the mill equipment located on the floors above. At various times auxiliary power was provided by a steam engine and later a gas engine which were used when the mill pond water supply was less than adequate. Electricity was introduced to Hadley in 1924 and the mill was converted to using electric power that same year.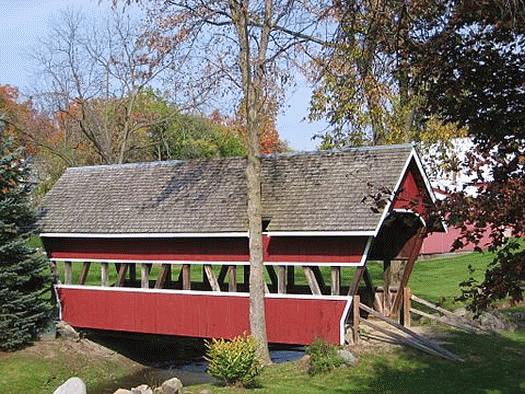 Picture: Kent Copeman 10/09/2006
Through the years the mill produced feed for animals or grist, flour, and cider. There are indications that there was also a saw mill on the site. The lack of farmers in the community and the advent of traveling mills made operation of the mill unprofitable. Roy Griffith and his wife, Lila, were the last to operate the mill for grist in 1964. The covered bridge has been added in recent years as part of the museum features.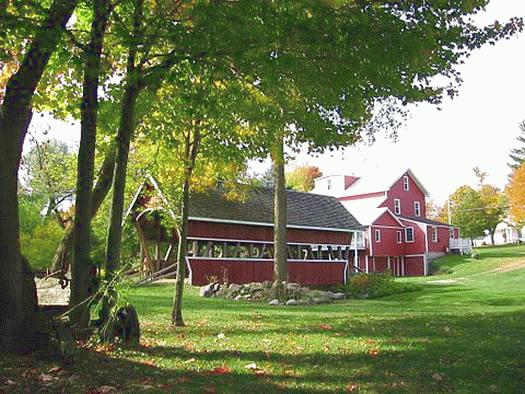 Picture: Kent Copeman 10/09/2006
The mill and acreage for a park were given to Hadley Township in 2002 by Ralph and Marie Hartwig. This complex is now known as The Hartwig Community Park. The Hadley Township Historical Society was formed to collect and preserve articles and items of historical significance to Hadley Township. The mill has been transformed into a museum to remind visitors of their heritage. It is open by appointnment by calling Kent and Reta Copeman at 810-797-4026. Thanks to Kent Copeman for supplying the pictures and information for this mill.
*Update: As to our Historical Society, we now have the main line shaft turning via electricity at the mill and are in the process of hooking up the gears that turned the turbine. That tank was dug out and sealed at the back with a wall. People will be able to see all anyone sees with a turbine at the bottom which is below the wood floor. They still think they should see something turn. We hooked up a large sharpening stone to the main shaft which is good to see run. It came from a small mill that has been gone before I can remember (at age 77). It lay in a field for years and we did not know it. Our guys built a stand, added bearings and belted it up. We also added a large fanning mill from another operating mill. That is connected to a smaller line shaft. We hope to connect a corn-sheller to that also. I think our mill is the last standing in Lapeer County. The other two floors are the Hadley items museum. Kent Copeland-12/20/2012*
"I offer You my heart, Lord God, and I trust You....Show me Your paths and teach me to follow; guide me by Your truth and instruct me."
(Psalm 25:1, 4 & 5 CEV)
Directions: Turn right onto Baldwin Road/Ch 33 from S. Main St/Ch 24 in Lapeer, go about 4 miles SW to the junction with Lippincott Road/Ch 22. Turn left and procede about 4.5 miles & make a left on Hadley Road/Ch 27. Go another 5 miles or so to Hadley. The mill is about 0.5 miles south of Pratt Road/Ch 62 in Hadley on Hadley Road at the Mill Creek crossing.
Upload Pictures