Box Elder Grist Mill / Smith-Snow Flour Mill / John Bott & Sons Monument & Tile Co
Box Elder Co. | Utah | USA | 1856
Township: u/k | Watersource: Box Elder Canal / Box Elder Creek.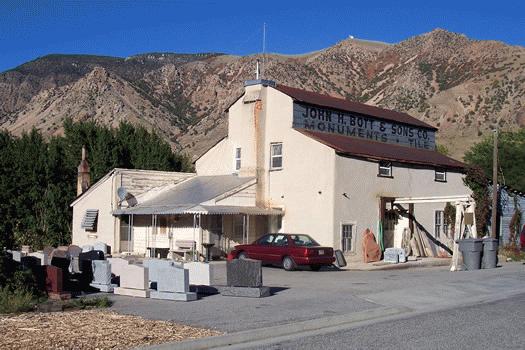 Picture: Jim Miller 09/24/2006
The small, rectangular, two story, adobe-brick mill located along Box Elder Creek and Box Elder Canal is a Frederick Kesler designed mill. The mill was a project of the Brigham Coorperation Mill Company, built by Samuel Ensign & Phares Wells backed by the monies of Brigham Young, Samuel Smith and Lorenzo Snow. The stone basement along with adobe bricks above served as part of the NE corner of the towns fort.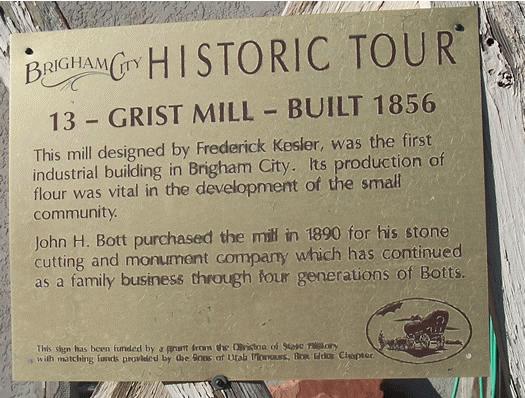 Picture: Jim Miller 09/24/2006
The second floor roof contained the central, length-wise clerestory or monitor of Kesler fame. The stone ends of the monitor contained slots for firing guns through at possible attacking Indians. The burrs were on a first floor platform. Some conflict remains as to whether the wooden waterwheel was inside or outside of the east wall. In all events, it was probably replaced sometime by a turbine.GPS: 41' 30.9'N, 112' 0.59'W ele. 4,436'/1,352 meters Brigham City Quadrangle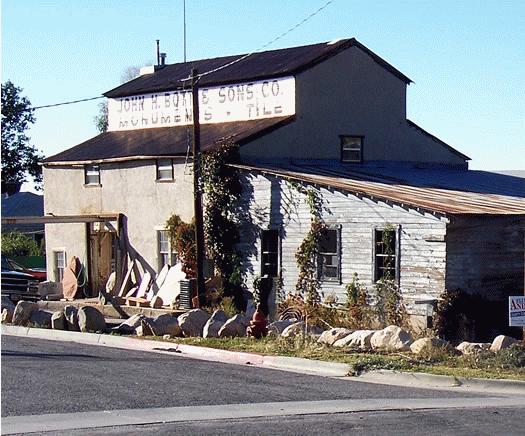 Picture: Jim Miller 09/24/2006
The mill was put into operation in 1857, but it's service was soon interrupted bythe occurrence of the Utah War. Kesler dismantled the machinery, relocating it to Provo, Utah for two months til the war was over, then back to the mill at Brigham City. All this to protect the valuable mill mechanisms. The mill boasted two sets of burr stone capable of producing 30 barrels of flour a day. It was the countys most expensive mill, but is today also the best preserved Kesler-built mill in Utah.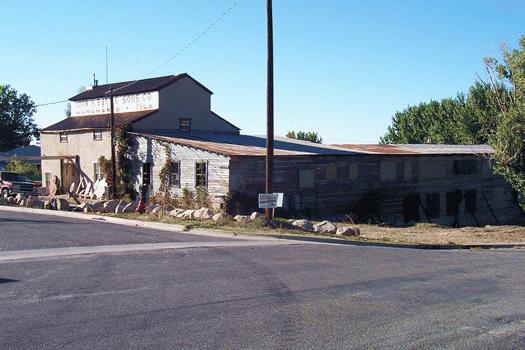 Picture: Jim Miller 09/24/2006
The Smith-Snow Flour Mill declined toward the end of the 1800's, due to the inadequacy of the water supply for the population of the area. A new mill was built at the entrance to Box Elder Canyon and the old mill was sold to John H. Bott in 1890, a monument/gravestone engraver. The Bott family continues the monument business to the present day and the replacement mill, the Brigham City Roller Mills Company is long gone from the scene. *Update: This mill was destroyed by fire in August of 2008, arson suspected, with the investigation ongoing in 2011 still. Another old building in Brigham City was also destroyed a couple of months later, the Pett-Merrell Planing Mill, under similar circumstances. Gerald W. Herman 01/02/2009*
" 'Let him who glories glory in this, that he understands and knows Me, that I am the Lord, exercising lovingkindness, judgment, and righteousness in the earth. For in these I delight,' says the Lord."
(Jeremiah 9:24 NKJV)
Directions: Located at 327 East/200 North in Brigham City, Utah off I-15.
View Larger Map
Upload Pictures