Schaeffer-Wanner Grist Mill / Old Fleetwood Grist Mill
Berks Co. | Pennsylvania | USA | Orig. mill mid 1700's, enlarged 1844, rebuilt 1912
Township: Richmond Twp / Fleetwood Boro. | Watersource: Willow Creek.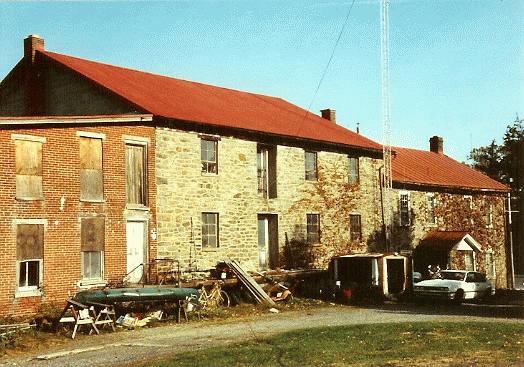 Picture: Jim Miller 10/20/1992
Built in 1883 by Peter Wanner on the Wanner tract of land purchased from John & Richard Penn, Williams sons. The mill and miller's house were built connected together. Peter Wanner released the mill to Daniel Wanner, then Daniel to Samuel Wanner, who sold to Philip Schaeffer. Philip's son WIlliam enlarged the mill in 1844 (this could be the addition of the brick two story on the left side &/or the third story of frame.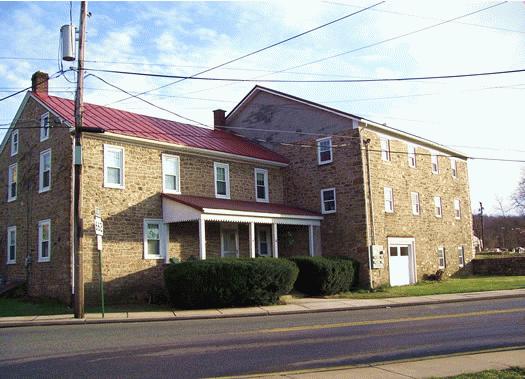 Picture: Robert T. Knisey 04/08/2006
The mill was traded by Schaeffer to Jacob Wanner for his farm near Lyons; Wanner, in turn, sold his mill to Colonel High, and the mill became known as High's Mill. In 1866, Daniel Koch had the mill and in 1882, owners Frank Fitch and Amos & James Dumn took out the lower dam and put in a larger Wheel.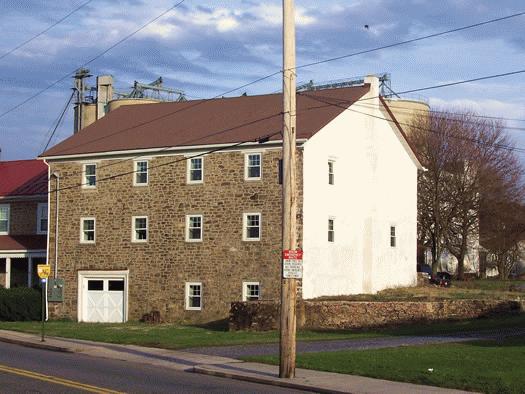 Picture: Robert T. Kinsey 04/08/2006
The Dumn Bros. sold the then called Triumph Roller Flour Mill & Coal Siding to George Scaeffer, the manager for Schaeffer-Wanner & Co., the proprietors of the Fleetwood Eagle Roller Mill in 1900. The Fleetwood Eagle Roller Mill was built in 1885, located across the lot behind the Wanner Mill and Depot Alley and the RR tracks. It was to become known as F. M. Brown & Sons Inc.`in 1947.
The Schaeffer-Wanner Mill, now associated with the Fleetwood Eagle Roller Mill, burned on August 27, 1912, sustaining major damage to the frame upper story, the floors below and the brick portion added in 1844. The mill was then owned by Joel Schaeffer, son Walter Schaeffer, and son-in-law John Kaufman. the name was Kaufman,Schaeffer & Co. A. M. R. Kelchner was also a part owner before the fire. The mill was rebuilt, and in 1942, Schaeffer leased the business to Grill & Oberholtzer.
A second fire, this occurring in 1959, Closed the operations permanently. The mill/miller's house was in a state of gradual deterioration in 1992; but since then, the combination mill/millhouse has been renovated quite nicely. The brick portion has been torn away and that side stuccoed; otherwise, the stone work and roofs, doors and windows are all repaired and it looks sharp. Kudos to whomever is responsible for the change.
"Let all those rejoice who put their trust in You; let them ever shout for joy, because You defend them; let those also who love Your name be joyful in You."
(Psalm 5:11 NKJV)
Directions: In Fleetwood, turn onto W. Main Street from Pa 662, go four or five blocks to N. Chestnut St. The mill is opposite N. Chestnut intersection on W. Main St, a house & mill connected.
Upload Pictures