Manada Hill Grist Mill
Dauphin Co. | Pennsylvania | USA | u/k
Township: West Hanover Twp. | Watersource: Manada Creek.
Picture: Robert T. Kinsey 01/19/06
More information is need concerning this mill. Date of construction and milling history would be great to know.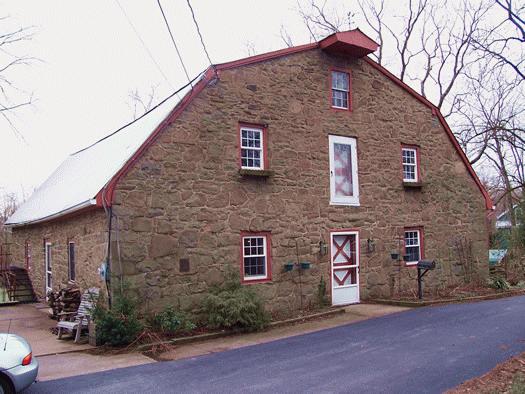 Picture: Robert T. Kinsey 01/19/06
On Jonestown Road NW of Hershey, Pa. The left side wall and the front of the mill are concaved walls. The front door is about a foot recessed from the corners.
"Be merciful to me, O God, be merciful to me! For my soul trusts in You; abd in the shadow of Your wings I will make my refuge,...'
(Psalm 57:1 NKJV)
Directions: Exit US 22 about 8-9 miles east of Harrisburg, Pa onto Sh 39. Procede north on Sh39 almost 1.5 miles and turn right on Jonestown Road. Go about 2,000' to the mill along Manada Creek.
Upload Pictures