Roddy Mill / Horst's Mill / Risser's Mill
Lancaster Co. | Pennsylvania | USA | 1816
Township: Mount Joy Twp. | Watersource: Litle Chickies Creek.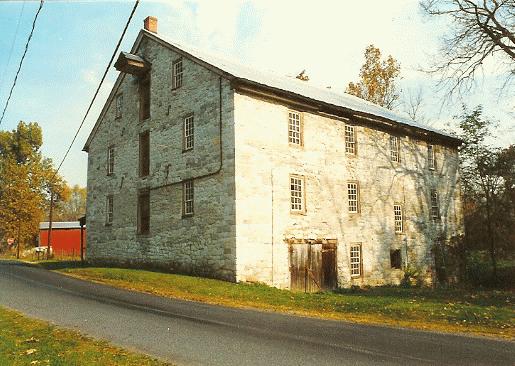 Picture: JIm Miller 10/24/87
James Roddy probably built the first grist mill on the site in 1721; which was operated for a time, then became non-operating until after 1800. Operations began again in 1802 & 1803 by Michael Horst. Then David Horst owned the mill from 1805 through 1813. In 1814, Peter Horst bought the mill and in 1816, he built the current mill said in all sources to be a "X 80' mill, 3.5 stories stone. In all actuallity, the mill is only about a 40-45'X 60-65' mill, 3.5 stories of limestone construction.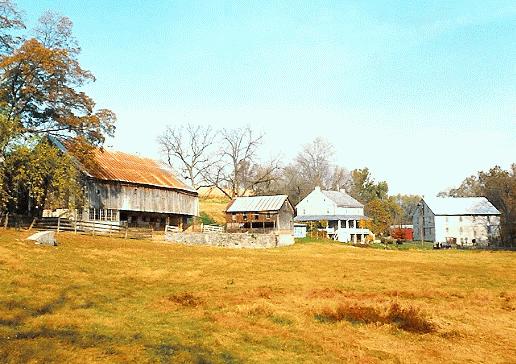 Picture: Jim Miller 10/24/87
From 1824 through 1864, the mill was known as Peter Horst's mill, and again in 1875, the mill was operated by a Horst. Abe Horst owned & operated the merchant mill in 1899. The flour,grist, and saw mill used a 30' headrace from the 3' dam upstream and a 50' tailrace in conjunction with an overshot wheel to produce 8 barrels/day of flour or grist.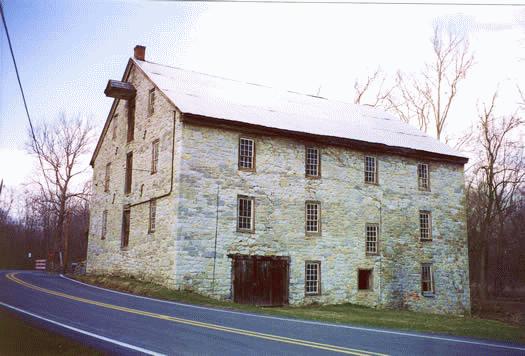 Picture: Robert T. Kinsey winter 2004/05
The mill closed in 1940 with Peter Horst Risser, Peter Horst-the mill builders great-great grandson, the owner. In 1966, Mrs. Fannie H. Risser, Peter Horst Risser's widow, made a statement to connect the builder with the closer. In 1987, the mill was in good condition, as was the Horst farm across Risser Mill Road. The mill is currently used for storage. The 82' Burr-arch Horst Mill/Risser/Sam Hopkins covered bridge that spanned Little Chickies Creek on Mount Pleasant Road beside the mill since 1849 was the object of arson around 2002/2003 and has not been rebuilt, the road just closed.
"Therefore receive one another, just as Christ also received us, to the glory of God."
(Romans 15:7 NKJV)
Directions: One block west of Pa 772/Manheim St. and Pa 230/W. Main St. Turn right on Fairview St. / Fairview Rd. and go about one mile. Turn right on Risser Mill Rd. and go about two miles, crossing Pa 283 after the first mile, to the mill on the right at the junction with Mount Pleasant Road.
Upload Pictures