Martic Forge Mill / Flory's Mill
Lancaster Co. | Pennsylvania | USA | Earlier mill 1770, this mill 1786
Township: Martic Twp. | Watersource: Climber's Run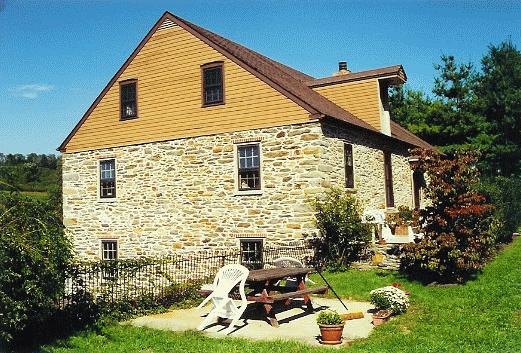 Picture: Jim Miller 10/24/99
The first mill was built by Abraham Keagy(Kagey) on land given to his wife from her father, Christian Breneman. Keagy paid taxes on this 30'X 40' 3.5 story stone/frame mill from 1770-79. Henry Keagy owned the mill operation from 1780-83. By 1785, Richard Keagy had aquired the flour/grist mill. The mill was sold in 1785 to Rudolph Keagy, who proceded to build the new/present mill of 3.5 stories measuring 40'X 55' with the dormer catshead(sack hoist) in 1786. Richard Keagy again bought the mill, and owned it from 1792 through 1795, when he sold to Abraham Kendig.
Picture: Jim Miller 10/24/99
David Greider owned and operated the milling structure from 1800-14, the mill going to John Good from Greider's estate. Good had it at for least ten years or more, 1814 through 1824. There follows a time span of 40 years with no records. In 1864 was A. Groff, J.B.Good in 1875, and R. Bake in 1899. The mill closed in 1923 under the ownership of Benjamin Flory.
The mill operated with water from Climbers Run, which almost had to truly climb up to the mill. The mill is situated on the side of a hill and water from the 3' dam traveled 5000' in a headrace to the overshot wheel housed in the basement of the mill. The water returned to Climbers Run, then almost immediately found itself in the Pequea Creek. Since Flory closed the mill,it has been kept in good condition and in 1999 was remodeled to serve as a private dwelling.
"...Blessing and honor and glory and power be to Him who sits on the throne..."
(Revelation 5:13b NKJV)
Directions: Located just off Pa 324/Martic Forge Road about 2 miles NE of Martic Forge. Turn left into short lane about 0.5 mile north of Pa 324 & Pennsy Road junction, this being about one mile south of Marticville on Pa 324 and about 1000' south of Climber's Run(creek).
Upload Pictures