Sapello Mill
Santa Fe Co. | New Mexico | USA | c. mid 1700's at Sapello, NM
Township: Unknown | Watersource: Tributary to Cienega Creek.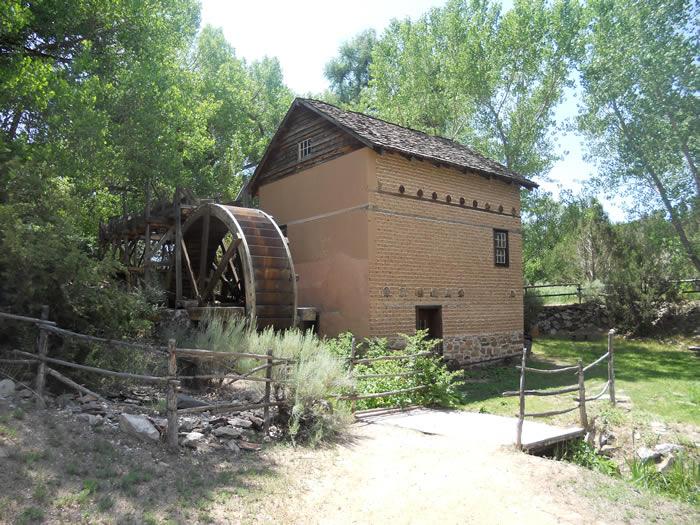 Picture: Joel Miller 08/17/2014
The stone & adobe mill was moved to the La Cienega location from the original location in Sapello, New Mexico, about 15 miles north of Las Vegas, N.M. on Sr 518, sometime between 1946 and 1970.GPS: 35° 34.20' N 106° 6.59' W ele 6,027'/1,837 meters Turquoise Hill Quadrangle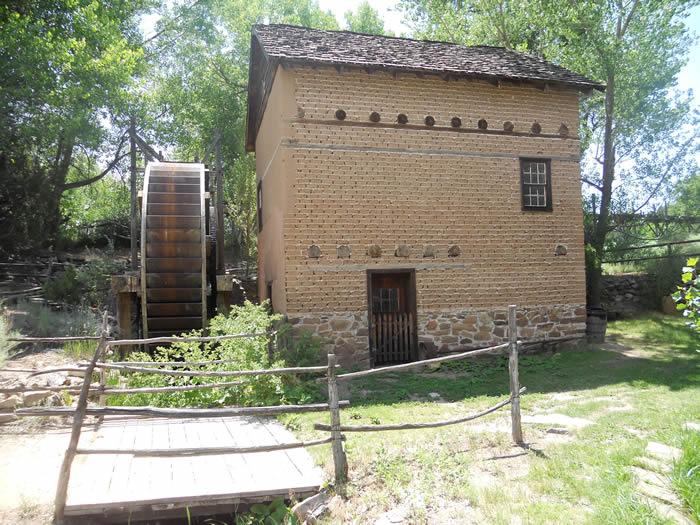 Picture: Joel Miller 08/17/2014
The original location in Sapello was probably on either the Sapello River or Manuelitas Creek. The recreated Spanish Colonial village sits on over 200 acres in La Cienega, about 25 minutes southwest of Santa Fe. They are open seasonally from April through October.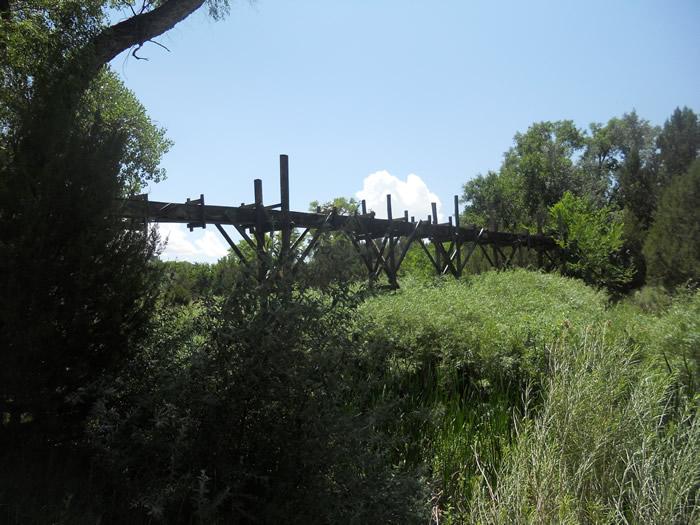 Picture: Joel Miller 08/17/2014
Part of the long elevated headrace, known as a flume, that brought water to the water wheel from the Cienega Creek or it's feeder tributary, flowing in from the southeast.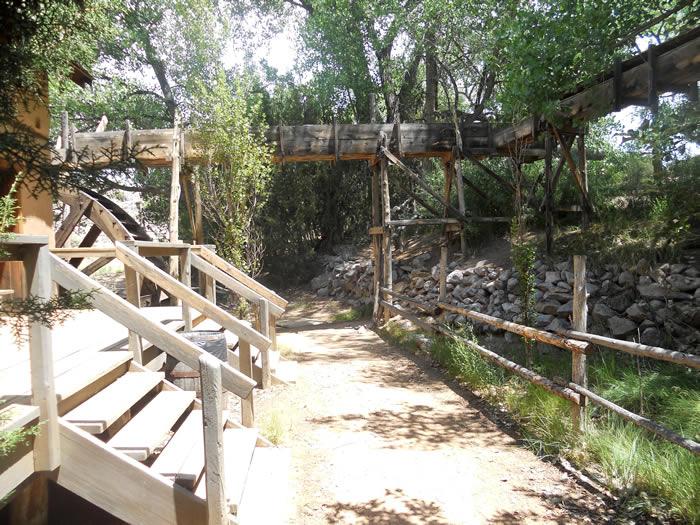 Picture: Joel Miller 08/17/2014
El Rancho de las Golondrinas/"Ranch of the Swallows", where the village is located in La Cienega, originated by way of a "Royal Purchase" from the King of Spain. Miguel Vega y Coca acquired the estancia in the early 1700's. At first, it was merely a paraje or wayside camping spot on the Camino Real. The flume approaching the mill waterwheel.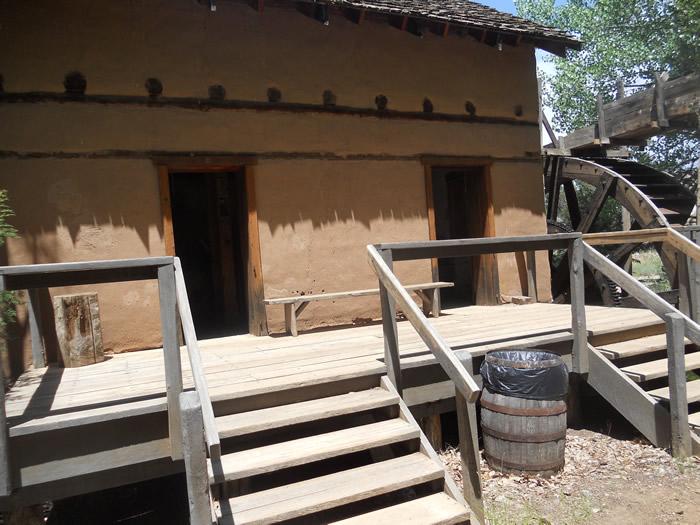 Picture: Joel Miller 08/17/2014
The Camino Real/Kings Highway was the royally charted road connecting Santa Fe with Mexico City. The Vega y Coca family raised livestock, including sheep. The wool was used to weave cloth for clothing and household items. They raised food crops and ground their own grain, first withmetates and later in small water-powered mills. They made tools from iron imported from Mexico and had their own blacksmith shop. The Golondrinas Placita, the original fortified adobe hacienda, complete with its own chapel dating to at least 1710, was rebuilt on the original foundation..It comes to life on weekends when costumed docents reenact the household activities of that time such as spinning and weaving. They also demonstrate such skills as blacksmithing. Today, they also raise heritage breeds of livestock including Navajo churro sheep. Much of this photo's caption is taken from the website listed above.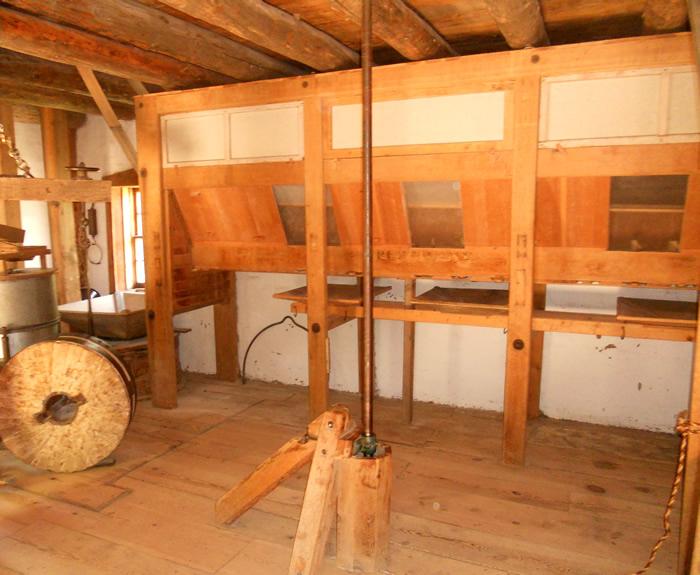 Picture: Joel Miller 08/17/2014
An partial, interior view of the mill. In 1932, the Baca family, heirs to Vega y Coca, sold the property to the Curtin family. Lenora Curtin, one of the founders of Native Market, a predecessor to Spanish Market married Y. S. Paloheimo, the Finnish Ambassador to the United States in 1946. They spent summers at the ranch and began to restore it. Living history villages are important in Finland and the Paloheimos decided to create one. The had the perfect property for it. This sript also taken from the website.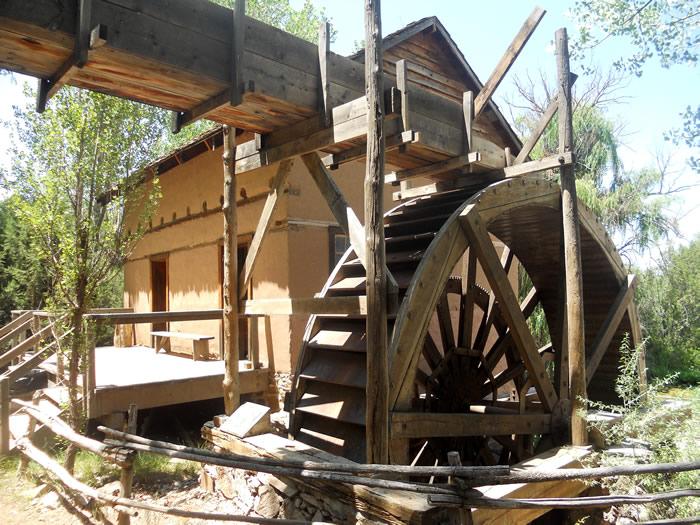 Picture: Joel Miller 08/17/2014
In addition to recreating the original Spanish Colonial buildings on existing foundations dating to at least 1710, they brought buildings from other places in New Mexico including the Raton Schoolhouse, the big mill from Sapelló and the little mill from Truchas. They also built a few replicas of historic buildings form the colonial era including a Penitente morada (small chapel), based on the one in Abiquiu, NM. In 1972, the property opened as a living-history museum. Script from the website.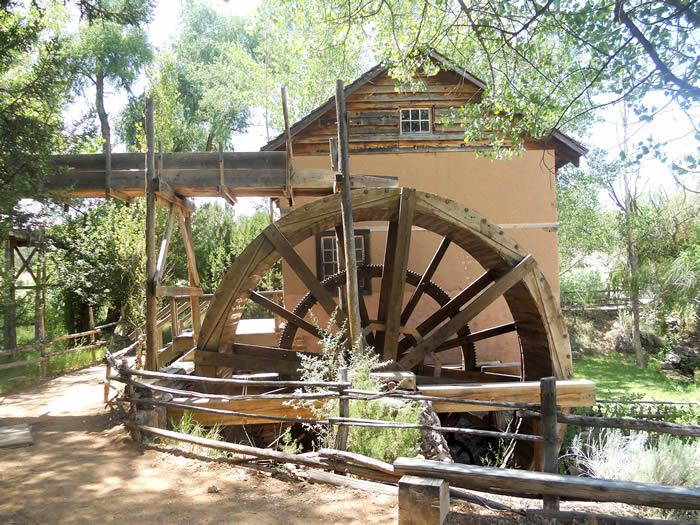 Picture: Joel Miller 08/17/2014
El Rancho de las Golondrinas' mission, in a nutshell, is to teach Spanish Colonel history and to infuse it with entertainment and activities that will engage people of all ages.Visitors go back in time and experience life in New Mexico as it was during the Spanish Colonial era. There are 34 buildings, built on original foundations, brought from other sites or recreated on site. You'll discover houses, a blacksmith's shop, a school, a country store, a Penitente morada, a gristmill and many other buildings from Spanish Colonial New Mexico. Over 200 acres of fields that have been tilled continuously for over 300 years are planted with crops that were staples in colonial times including corn, beans, squash, and chile. At the yearly Harvest Festival they demonstrate how to turn the sorghum raised here into molasses. Las Golondrinas donates most of the food raised here to the Food Depot, the local food bank. Sript from website: www.golondrinas.org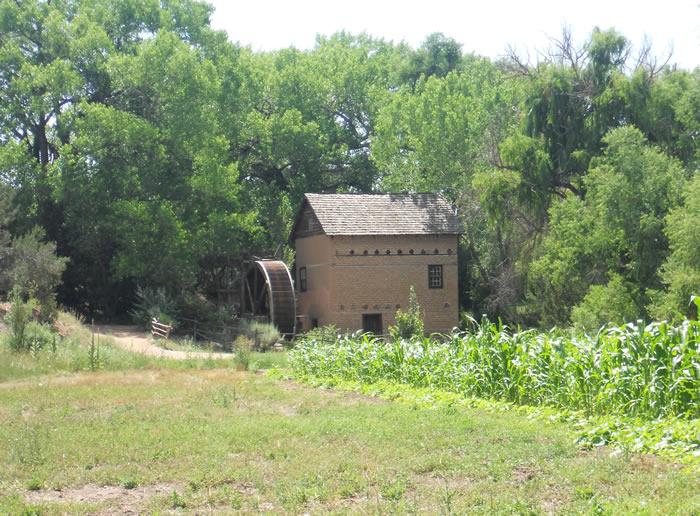 Picture: Joel Miller 08/17/2014
El Rancho de las Golondrinas grew out of the vision of the Curtin-Paloheimo family, who acquired the property in the early 1930s. Existing historic buildings were restored, authentic structures erected on old foundations and related buildings brought in from other New Mexican sites. Now, an 18th century placita house complete with defensive tower, a 19th century home and all of its outbuildings, a molasses mill, a threshing ground, several primitive water mills, a blacksmith shop, a wheelwright shop, a winery and vineyard depict many of the essential elements of early New Mexico. The Sierra Village portrays life as it was lived in the mountainous regions of New Mexico. A morada (Penitente meeting house), descansos , a Campo Santo and an Oratorio testify to the deep religious faith that sustained the early settlers.
Directions: Cr 54/Los Pinos Road at junction with Cr 56 Paseo Real, about 7-8 miles SW of downtown Santa Fe. To get to Santa Fe, take Cr 56/Paseo Real north to Sr 284/Airport Road at Sr 599. Continue on Sr 284 east to Sr 14/Cerillos Road. Follow this north into downtown Santa Fe.


Upload Pictures