Laudermilk Mill / Short's Mill / Tumlin's mill
Habersham Co. | Georgia | USA | u/k
Township: u/k | Watersource: Little Hazel Creek.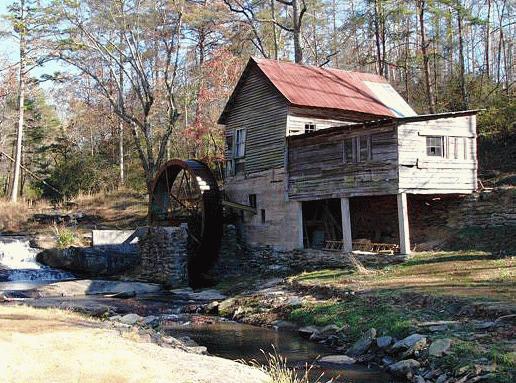 Picture: Grady Allen, Fall 2005
Old country mill probably of the mid 1800's, known at various times as Laudermilk Mill, Short's Mill and Tumlin's Mill.
Picture: Robert T. Kinsey 05/06/2012
The mill ceased operations in 1970. More info needed.
Picture: Grady Allen Fall 2005
GPS: 34D 34.11'N, 83D 29.543'W ele 1,381'/421 meters Ayersville Quadrangle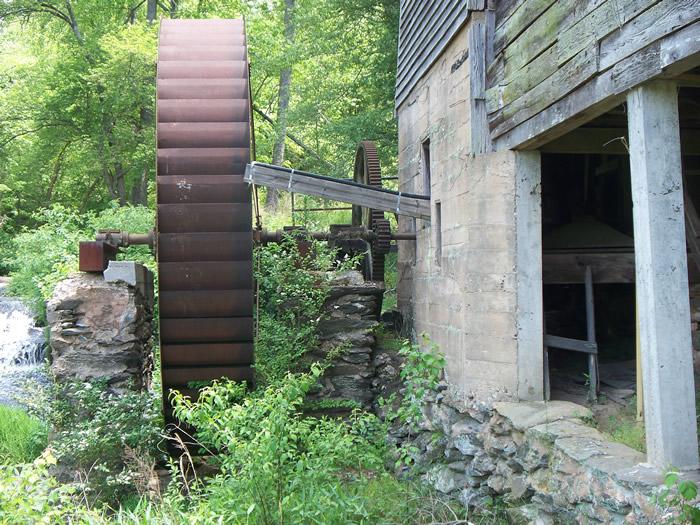 Picture: Robert T. Kinsey 05/06/2012
A close-up of the steel overshot waterwheel, not functional now as the supply system for the water is not in evidence.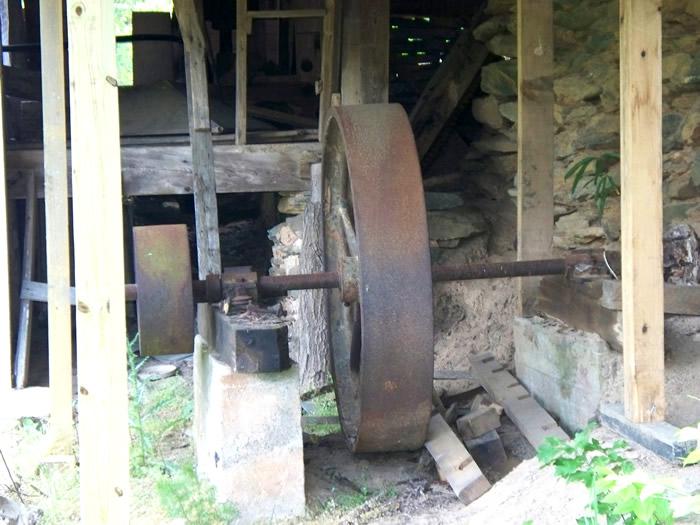 Picture: Robert T. Kinsey 05/06/2012
Some of the gearing mechanism of the mill, driven by the large waterwheel.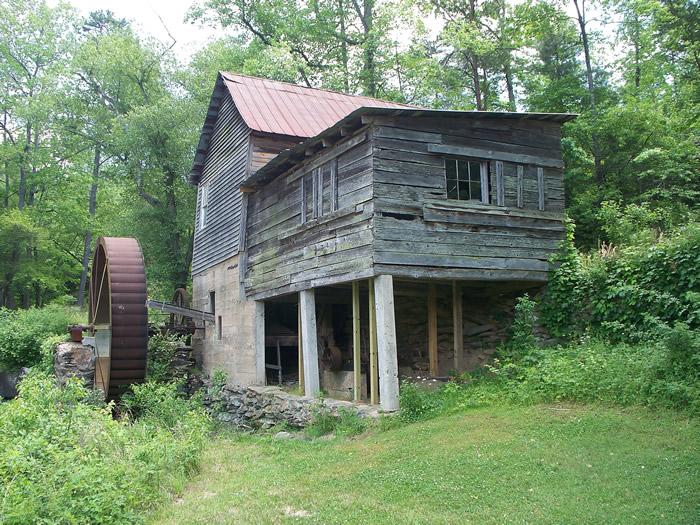 Picture: Robert T. Kinsey 05/06/2012
Almost a three-dimensional effect with the elevated section of the mill appearing to jut-out at one.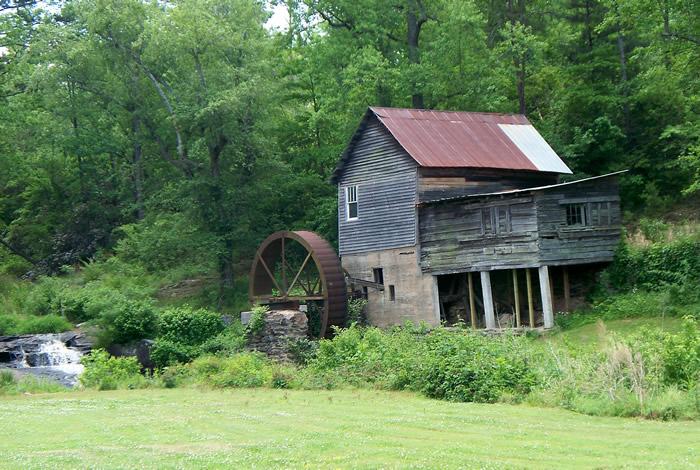 Picture: Robert T. Kinsey 05/06/2012
Nestled in a pleasant setting along the southern bank of Hazel Creek. Hazel Creek flows into the Soque River, which in turn flows into the Chattahoochee River.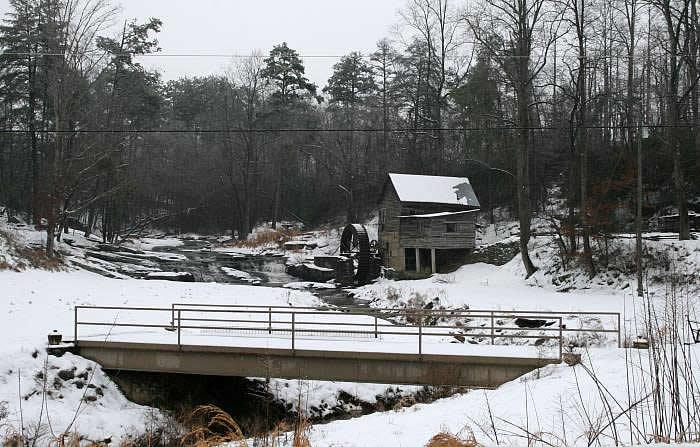 Picture: Barbara F. Johns
Short's Mill at Hazel Creek taken after a beautiful snow fall in February 2007.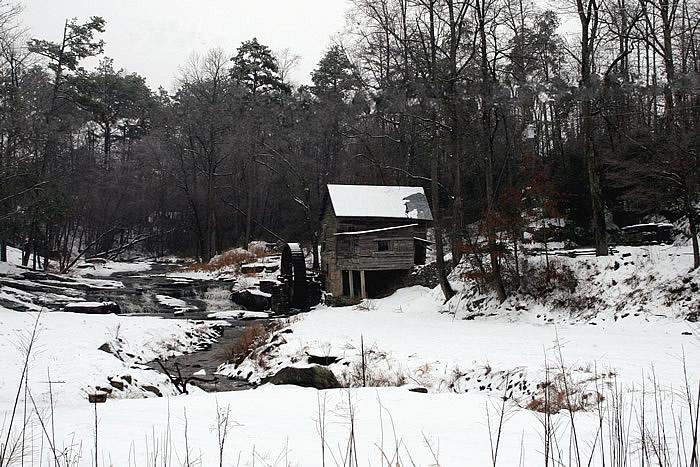 Picture: Barnara F. Johns 02/2007
Another winter view, but the power/telephone lines have been removed via a computer program.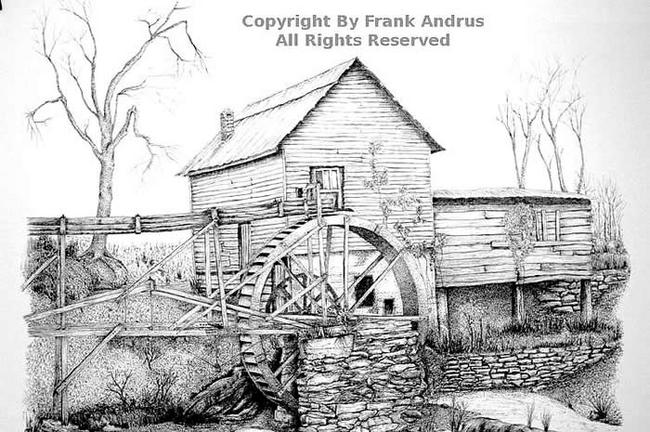 Picture: Nancy Bedell & Frank Andrus
*Update: "I owe this picture to a good friend, Dave Ramsey, who took me to this little mill after he saw the type of work I did in pen and ink. The water trace was rotted and gone at the time of the drawing, but Dave and I kept looking for someone with an old picture of this mill which would help me be historically correct. About a year later we did find a black and white picture that provided the water trace as recorded in this drawing. Oddly the photograph found and the drawing I did were taken from the same perspective." Nancy Bedell 05/10/2007*
"I will extol You, O Lord, for You have lifted me up, and have not let my foes rejoice over me."
(Psalm 40:1 NKJV)
Directions: About 3-4 miles SE of Clarksville on Sh 197, about half way between Clarksville and Mt. Airy on the south bank of Hazel Creek at the community of Shorts Mill.
View Larger Map
Upload Pictures