Rock Mill / Zeitinger's Mill
| Illinois | USA | 1859
Township: | Watersource:
Picture: Jim Miller 07/29/2014
Maeystown had its beginning in 1852, being platted out in lots in 1856 by "Jacob Maeys and Company." Jacob Maeys later took a man named Jacob Pilliard as his partner, later selling some land to Jacob Pilliard for $246.00. Pilliard and a John Coleman built the mill in 1859, with Pilliard selling the mill to Coleman on March 3, 1860. Coleman sold it to Anton Zeitinger on November 12, 1862.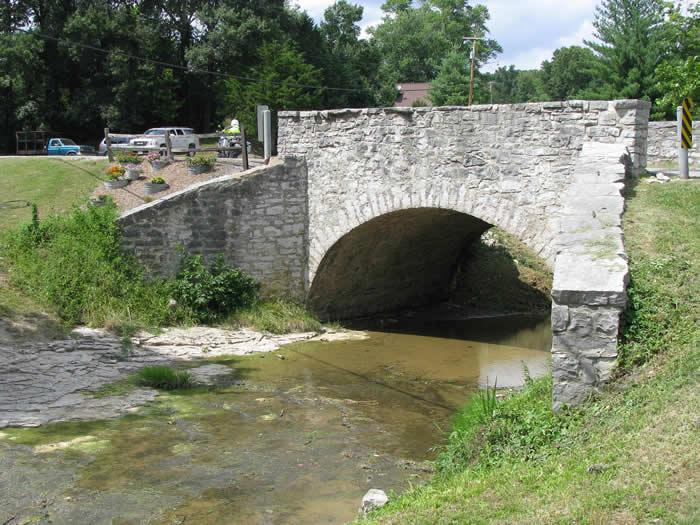 Picture: Jim Miller 07/29/2014
Zeitinger still owned the mill, in 1868, when there was a fire. At a later date, the mill was purchased again by Jacob Maeys, William Maeys, Jacob Jobb, Jacob Hoffman, George Hoffman, William Hoefft and Dr. Charles Wilhelm. It was rebuilt in 1880, but never put back in operation. On September 28, 1893, Jacob and Christine Maeys and Margaret Maeys, along with sellers Jacob and Wilhelmina Hoffman, August and Catherine Quernheim, Jacob and Gertrude Jobb and George Hoffman sold the mill to William (Wilhelm) Hoefft for $246.60.
Picture: Jim Miller 07/29/2014
August Hoefft was the undertaker in the village and a brother to William (Wilhelm) Hoefft. August died later in 1893 and William set up an undertaking and furniture business in the mill. He ran the business until he was killed in a car/pedestrian accident in November 1914. William was the pedestrian. At that time his half-brother Charles (Karl) Hoefft left farming and took over the business and became an undertaker. The family moved to Maeystown on Christmas Day 1915.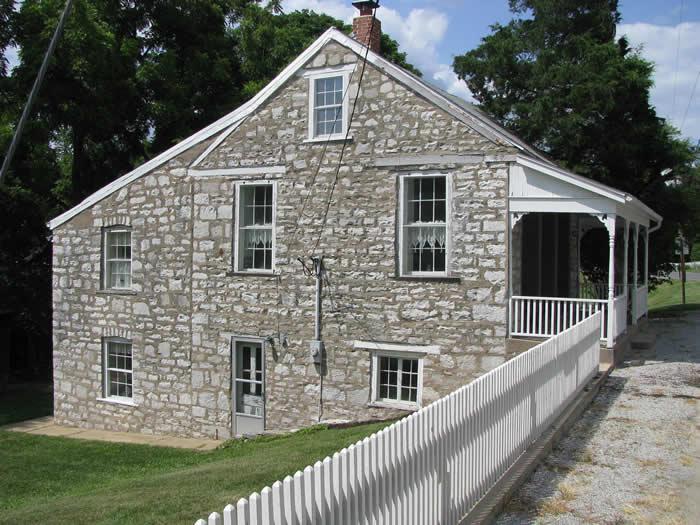 Picture: Jim Miller 07/29/2014
Karl cut one of the big doors into the front of the building for a car garage. The second floor was for living quarters and the third floor was for storage. This third floor was really the fourth level of the mill. It was made of wood and had been damaged by a previous fire. Hoefft also installed a cider press, cooked sorghum and operated a delivery truck to haul produce to St. Louis and bring back manufactured products for merchants and residents.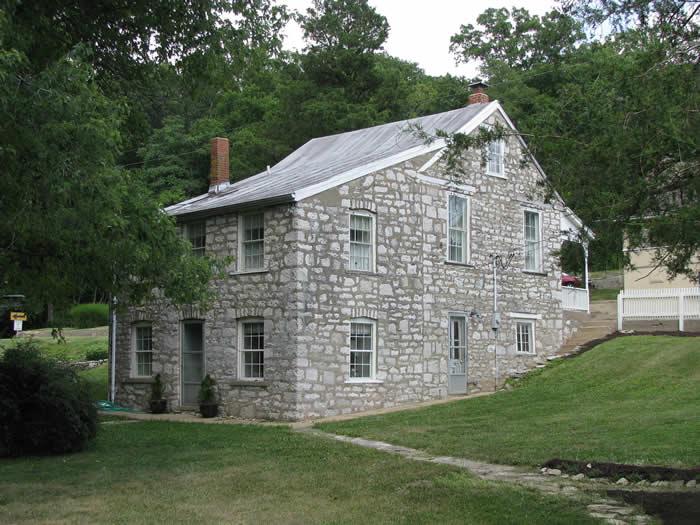 Picture: Jim Miller 07/29/2014
In addition, Karl Hoefft also sold electric light plants in 1921. The members of St. John Church voted to buy from him a light plant to service the church, old school house, parsonage and the newly built church hall for $164.31. This price included labor, globes, wire, switches and two gallons of gas for the unit. For information purposes, public electricity did not arrive in Maeystown until 1938.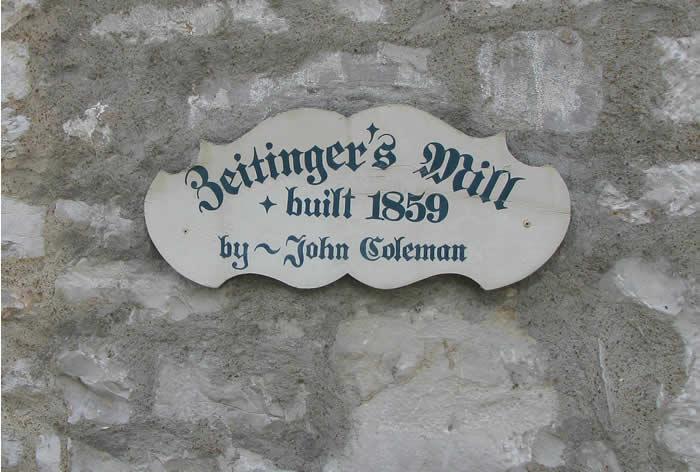 Picture: Jim Miller 07/29/2014
Charles (Karl) Hoefft's business venture ended when he was struck and killed by a train at Maeys Station on July 6, 1922. The mill was then sold to Jacob Henerfauth for $3,000.00 on October 24, 1922. George and Marie Edler bought the mill from Henerfauth on November 22, 1934. A car repair garage continued in the mill for many years. A man named Jack Monroe operated the garage and he and his wife lived on the second floor. He also put in a barber chair on the first floor and cut hair when he had time. Later Erwin Hoffmann and Charlie Fischer operated the garage. Walter (Wuzzie) Vallowe was a mechanic for them.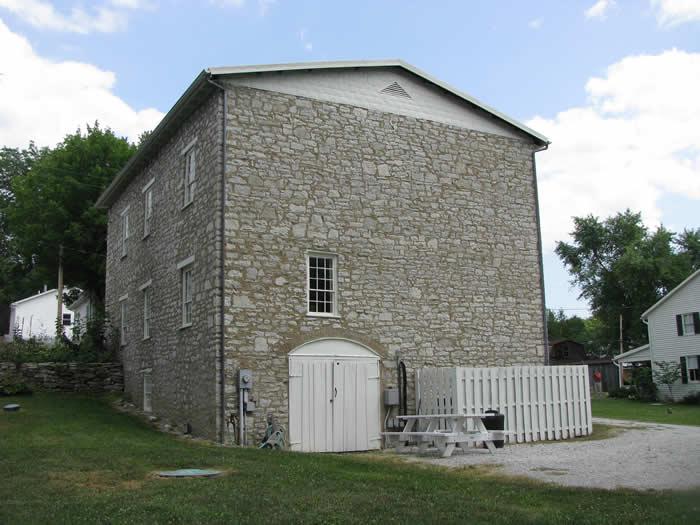 Picture: Jim Miller 07/29/2014
In April of 1935, Edler removed the damaged third floor from the building. Edler sold the property to the Monroe Service Company, now Gateway FS, who operated it as a service station. Operators of the business during this ownership were Louis (Peggy) Hoffman, Guy Bundy, and again Jack Monroe Vernon Hoffman operated the garage in 1945 and 1946. In 1947, Albert (Slim) Knobloch operated the garage and did so until 1963. In 1963, the Maeystown Civic Association bought the building and used it for storage.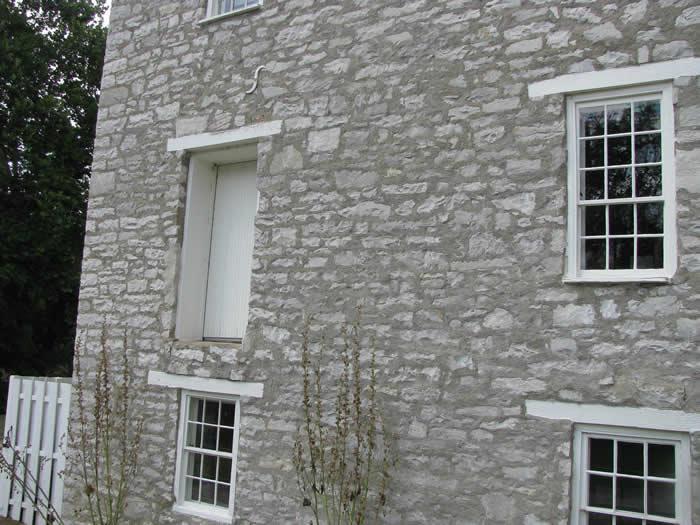 Picture: Jim Miller 07/29/2014
The Civic Association sold the mill to Doug Clements on July 14, 1980. He operated a business that made hand-crafted furniture, repaired furniture and restored horse drawn conveyances. At a special meeting held April 19, 1983, the Maeystown Preservation Society voted to purchase the mill from Clements Woodworking for the sum of $16,000.00. The Society gave Clements $3,500.00 and was given a loan by First National Bank of Waterloo for $12,500 for the purchase of the property.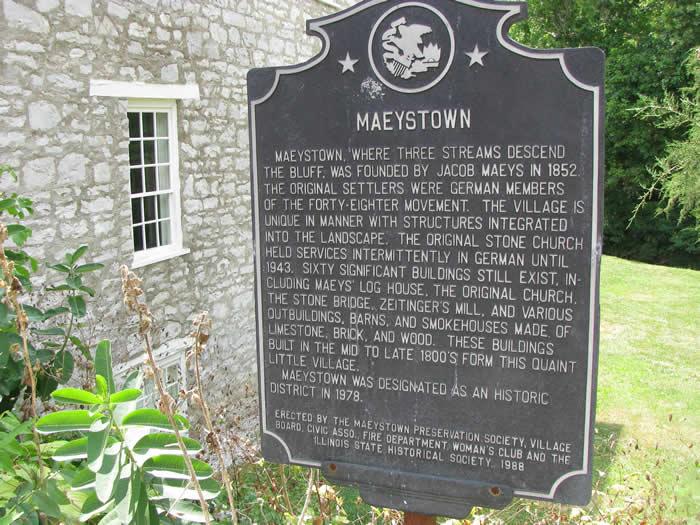 Picture: Jim Miller 07/29/2014
Today the mill is owned and operated by the Maeystown Preservation Society as a museum, historic displays, visitor's center, and a social center. The Mill plays a large part at the time of the Oktoberfest and other festivals in Maeystown. It is also used by the Society as its headquarters. The Society has worked hard over the years to restore and preserve the Mill. In 1995, the Society received a matching grant from the Tourism Bureau of the State of Illinois to preserve and restore the Mill. The entire town is listed on the National Register of Historic Places. An Octoberfest is held at the mill each fall.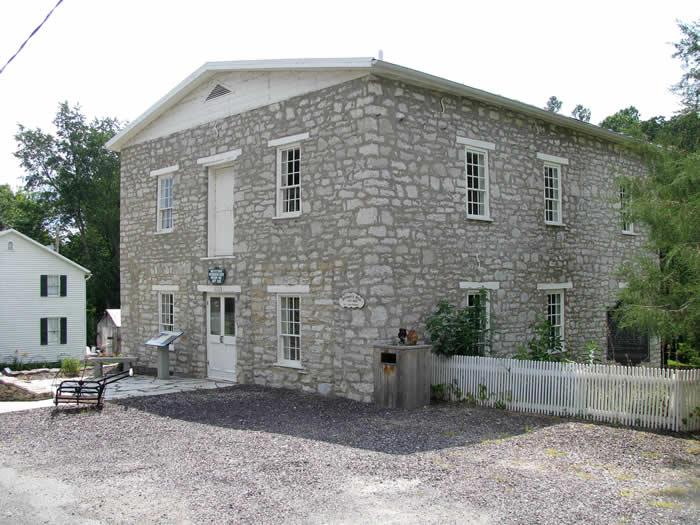 Picture: Jim Miller 07/29/2014
Tuck-pointing, new guttering, closing up the large front doors and replacing some windows had been previously done. The matching grant allowed the Society to add restrooms, heat, air conditioning, upgrade electric service and sewer hookup, a kitchen area, storage and a meeting area.GPS: 38° 13.54' N 90° 13.99' W ele 472'/144 meters Renault Quadrangle
Deeper, higher, ev'ry day with Jesus, Till all conflicts past, Find me conqu'ror, and in His own image Perfected at last. "Deeper, Deeper" 1900 Public Domain by Charles P. Jones 1865-1949
(From the Nazarene Hymnal - Worship in Song)
Directions: Located about halfway between Chester, IL and St. Louis, Mo. From Chester, take Sr 3 north to Ellis Grove, then take Roots Road west to Cr 7. Go NW on Cr 7/Bluff Rd. through Modoc & Prairie Du Rocher; then an additional 12-13 miles to the junction with Maeystown Road. Turn right and go 2 miles to the mill on the north edge of Maeystown, still on Cr 7.


Upload Pictures