Wye Mills
Talbot Co. | Maryland | USA | 1682
Township: u/k | Watersource: Wye East River
Picture: Dan Gutierrez 04/23/2005
The mill at 14296 Old Wye Mills Road was purchased by the state in 1953 and soon deeded to the Society for the Preservation of Maryland Antiquities. Restoration was completed in the early 1990's and since then, the mill has been a functioning museum of the milling arts and crafts.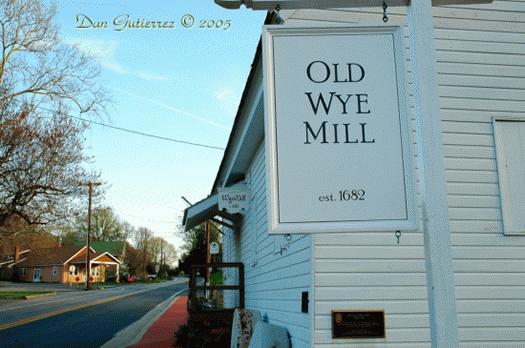 Picture: Dan Gutierrez 04/23/2005
The town of Wye Mills was named after the sawmill and two grist mills operated by Richard Sweatman in 1706. The mill on Wye East River, built in 1682, provided the nucleus for the small settlement to become a commercial and social center for the area. This mill, the oldest surviving frame mill on Maryland's Eastern Shore and the oldest continuous commercial enterprise in the state, was part of a number of mills in the region that earned the area the title "the Breadbasket of the American Revolution" during the war for independence.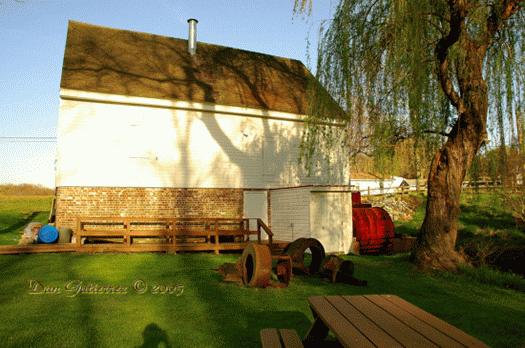 Picture: Dan Gutierrez 04/23/2005
Some earlier owners of the mill were: Richard Bennett III, Edward Lloyd II & IV(owners of Wye House at the time), and Col. William Hemsley, the provisioner of Washington's Continental Army and Commander of Queen Annes County Militia during the Revolutionary War. Another name associated with the mill was Oliver Evans, the Father of the Modern Factory(milling in particular), who used the mill to further some of his automation ideas concerning milling practices.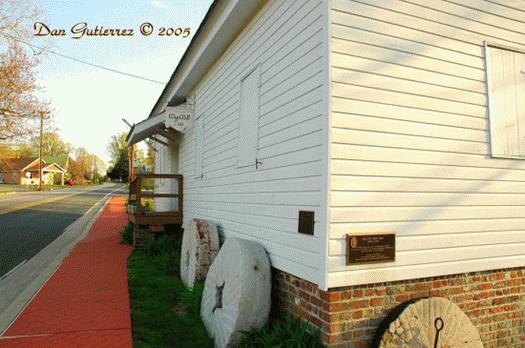 Picture: Dan Gutierrez 04/23/2005
J. F. T. Brown owned the mill in 1889 which was described as a 1.5 story 37'X 25' frame grist mill using two set of buhrs. Brown converted the mill to rollers, necessitating the removal of one set of stones. The result was a 2 Little Giant turbine powered system, later converted to a Fitz overshot wheel, that produced 30 barrels of flour a 24 hours period. Water for the wheel was brought under ground through a penstock from the mill pond and exited by way of a tailrace back to the river.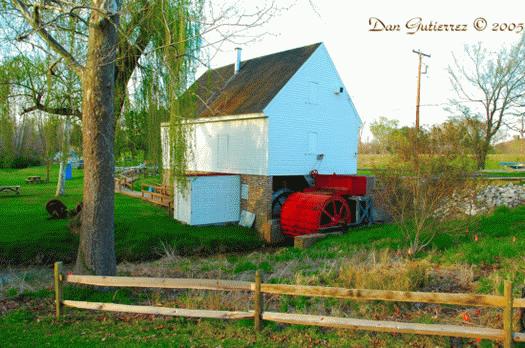 Picture: Dan Gutierrez 04/23/2005
Consult the website to learn more about the mill, it functioning, its history, its physical address and email address, and its hours of operation and special events calender. *Update: The mill began operation in 1682. Early court records indicate that construction of the mill pond was begun in 1681. Under Mr Hemsley, the mill supplied barrels of flour and cornmeal to Washington's army. In the 18th century, the mill also included a bolting and fulling mill (for processing wool) a sawmill and a bake house (for making bread and ship's biscuits[hard tack]). Jim Casey, miller, Wye Mills 02/06/2006*
"Behold, how good and pleasant it is for brethern to dwell together in unity."
(Psalm 133:1 NKJV)
Directions: On Marylands Eastern Shore, exit US 50 onto Md 662. Go 3.5 miles north to Wye Mills. The mill is at the Talbot-Queen Annes County line at Wye East River.
Upload Pictures