Mackley's Grist Mill
York Co. | Pennsylvania | USA | 1736
Township: Hellum Twp./Hallam Boro. | Watersource: Kreutz Creek
Mackey's Mill is a 1736 limestone structure of 40x80 foot dimensions. The very impressive and eye-pleasing building has catsheads on the roadside elevation and also on the south elevation. Two different styles of catsheads both terminate after three doors of height. Especially pleasing are the vertical brick lintels on those windows in the stone portion. Dormer windows are evident on all sides of the elegant mansard roof.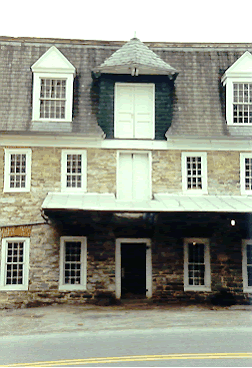 The section cut out of the porch overhang is to allow hauling of grain or corn sacks to doors at upper levels. The mill was a grand-scale restaurant in 1992 when last visited, specializing in banquets and special occasions extravaganzas.
Location: (ADC Map #23, G 2).
Directions: Traveling west in Hallum, Pa., York Co. on Pa.462(Lincoln Hwy./Market St.), turn left onto Broad St. (Yorkanna Rd.) and go for .5 mi. Mill is on left across creek.
Upload Pictures