Wise Mill / Bridgeton Mill
Parke Co. | Indiana | USA | 1823, rebuilt 1870
Township: n/a | Watersource: Big Raccoon Creek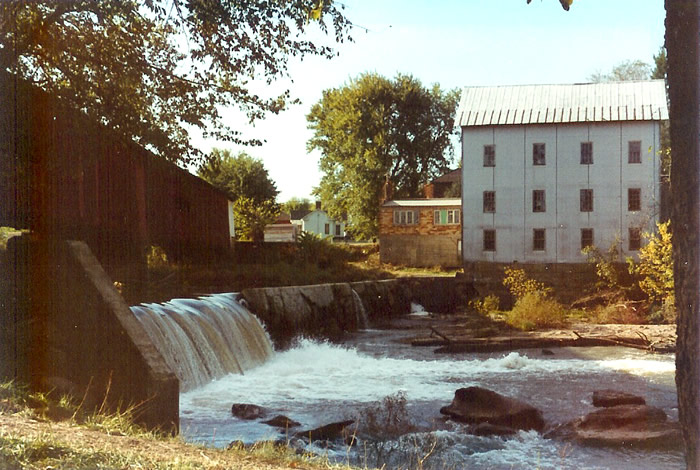 Picture: Jim Miller 10/1982
The 3.5 story frame 35"X 45' mill rests on a stone foundation. The 1823 mill burned in 1869 and was rebuilt in 1870. The roller mill process, more efficient, was introduced in the 1880's. It was water-powered until 1951, when a dust explosion knocked out the water-powered mechanisms and the mill converted to electricity.
In 1982, the mill was being operated intermitantly, using the 48" buhrs that were installed in 1970, a year after feed milling operations ceased. The building was largely eaten up by termites; thus, three years were spent salvaging the building before restoration could begin. The Wise family mill is famous for three generations for their stone ground corn meal and whole grain flours. Over 20 products are produced and sold at the mill-all stone ground. This is a major stopping place on the Parke County Covered Bridge Tour annual clebration in October.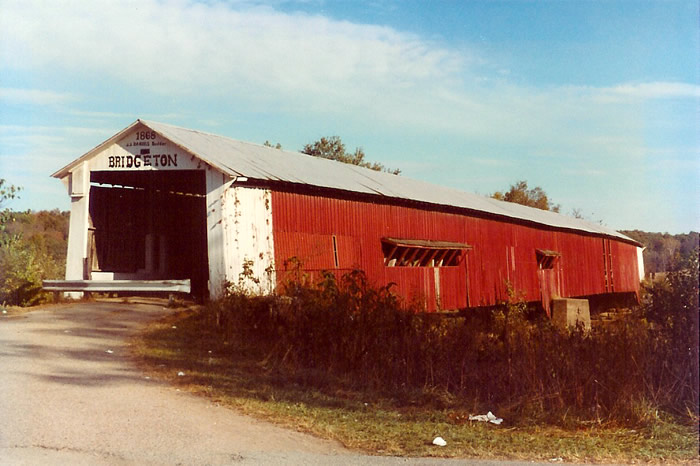 Picture: Jim MIller 10/1982
The Bridgeton Covered Bridge spans the Big Raccoon Creek on Old Cr 107 next to the Wise Mill. Built in 1868 by reknown Indiana bridge builder J. J. Daniels, the 245' span is of a double Burr Arch construction. It is # 14-61-14 in the World Guide to Covered Bridges. The dam is 225' wide and 9' high.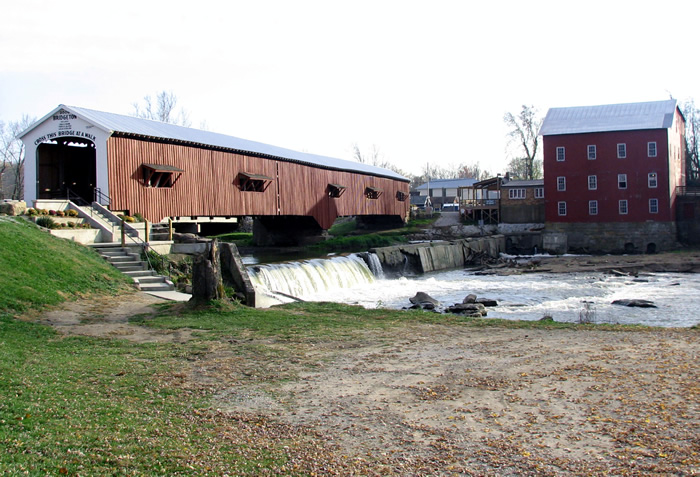 Picture: Mike & Karen Roe 11/10/2008
2008 - Mike and Karen Roe purchased the Weise Mill in 1995 from Mildred Weise. She was thwe 82 year old widow of Ernest Weise. At this time, the mill was still operating and the family opened it up for big festivals and demonstrated the milling process. Mildred did a mail order business the rest of the year. The family showed Mike how to do the milling and gave him their grandfather's recipes. Mike and Karen are trying to restore the old mill. They do not get grants or funding. The plan is to make it a success and use the profits from that success to restore the mill! So far it is working!! They spent twelve years restoring the building and machinery. Now they are restoring the dam by slowly working their way across the creek with new concrete. Hopefully in three or four years they will have the restoration completed.
"I love the Lord, because He has heard my voice and my supplications. Because He has inclined His ear to me, therefore I will call upon Him as long as I live."
(Psalm 116:1 & 2 NKJV)
Directions: Travel east of Terre Haute, Indiana about 17 miles on US 40 to Knightsville. Turn left and go north on In 59 for about 10 miles, turning left on Cr 14. Turn left momentarily on Cr 47, then right on Cr 96. Follow Cr 96 to Cr 20. Take Cr 20 west(left) into Bridgeton. At junc. with Cr 107, cut off onto the old Cr 107 when you see the covered bridge and mill on the left.
Upload Pictures