Wolff Milling Co.
Franklin Co. | Missouri | USA | pre- 1876
Township: Boeuf Twp. | Watersource: Small stream, probably steam powered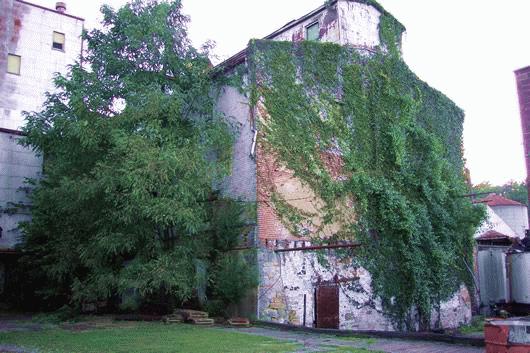 Picture: 09/04 Jim Miller
The closed Wolf Milling Co. facility is a 40'X 70', 4 story structure the first story of stone the upper three stories of brick. This building has a partial clorestory along the ridge. The town was originally called Blish Mill after an early grist mill of that name located there.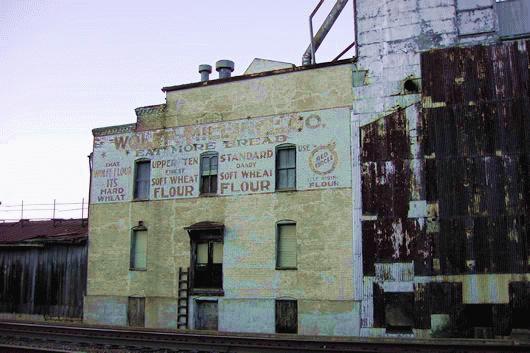 Picture: 09/04 Jim Miller
The front of the original structure with its unusual fascade and some original advertizing lettering visible. ***Update: Jacob & George Wolff purchased the existing mill, New Haven Roller Mills, in 1876, remnaming it Wolff Brothers Milling. The parnership of Jacob and his brother lasted until 1888, when Jacob sold out to George and the Wolff Milling company was incorporated in that year. Goerge and his sons operated the mill until c. 1923. Jacob and family moved to LaGrange, St Louis County, Missouri where he purchased the Climax Mills and changed the name to The People's Exchange Feed Mill. Update info courtesy of Robert Smith, great grandson and great nephew of the Wolff Brothers. 07/25/2005***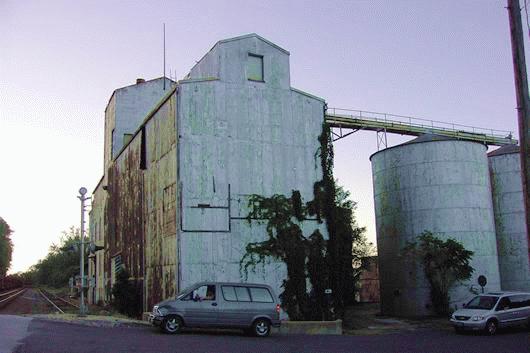 Picture: 09/04 Jim Miller
Another large later structure of frame covered with galvanized sheet metal was built at right angles and attached at the front half of the original mill.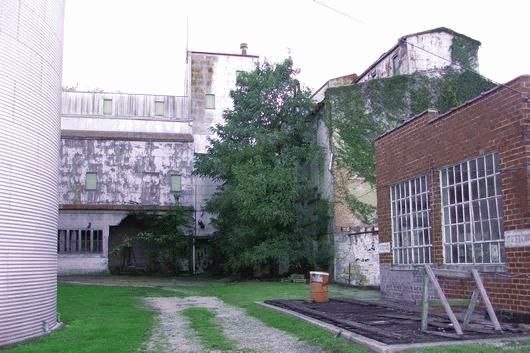 Picture: 09/04 Jim Miller
The middle of the picture depicts the joining of the original mill on the right,with the added frame part on the left. Various bins and silos still remain of the complex.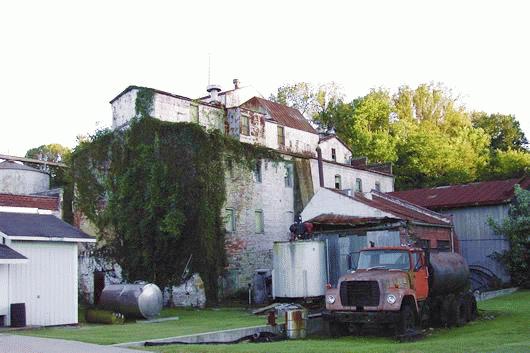 Picture: 09/04 Jim Miller
The northwest side of the original mill with a truck left over from the days of operation.
"'Now therefore,' says the Lord, 'turn to Me with all your heart, with fasting, with weeping, and with mourning.' So rend your hearts, and not your garments; return to the Lord your God, for he is gracious and merciful, slow to anger, and of great kindness; and He relents from doing harm."
(Joel 2:12,13 NKJV)
Directions: On the Missouri River in the town of New Haven. Exit Mo 100 onto Miller St. Follow down through town toward the riverfront area. Turn left on Front St. after the Missouri Pacific RR tracks. Continue several blocks to Olive St. The mill is on the far side of Olive St.
Upload Pictures