Christman Grist Mill
Berks Co. | Pennsylvania | USA | C. 1825, 1850
Township: Hereford Twp. | Watersource: Perkiomen Creek, headwaters
Picture: Jim Miller 10/03/1987
The 40'X 50'stone/stucco mill was built to 3.5 stories in 1857-58, after the 36'X 44' earlier log mill was torn down by Jacob Christman. Milling was apparently in the Christman blood, as all three of Jacob's sons and his brother, Jonas became millers in Lehigh & Berks Cos.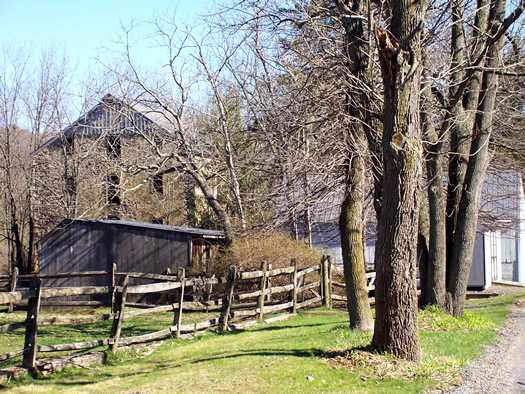 Picture: Robert T. Kinsey 04/09/2006
The former log 'Buzzard's Mill' was on the site in 1801, when the log mill, log cabin & property were purchased from Peter Keyser & wife by Philip Christman. He then sold the whole parcel to his son, Henry, in 1805. Twenty-five years later, Jacob Christman bought the same from his father, Henry.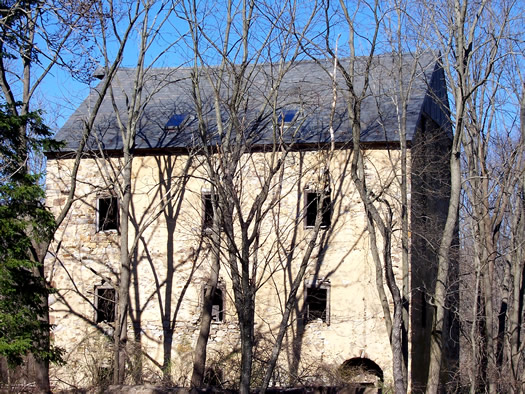 Picture: Robert T. Kinsey 04/09/2006
Before any major restoration began.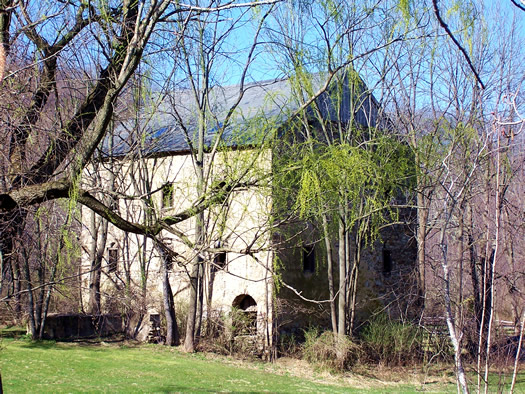 Picture: Robert T. Kinsey 04/09/2006
James Christman became miller upon his father's death and later, his son, Calvin J. Christman, the fifth generation of Christmans became the owner/operator. The mill was the property of Dr. Nicholas Prusack in 1990and probably to the current time.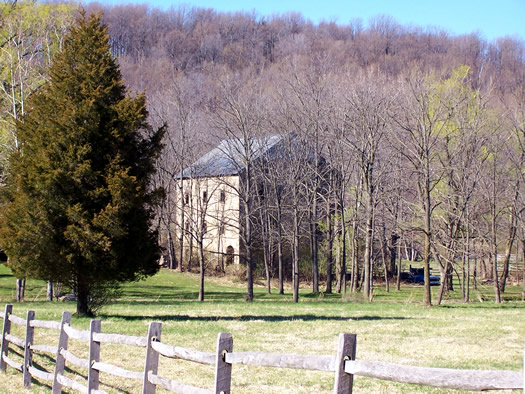 Picture: Robert T. Kinsey 04/09/2006
Using the headwaters of the Perkiomen Creek for power, the old mill was slowly deteriorating in the early 1990's, and was being slowly stablized, if not completely restored in 1989.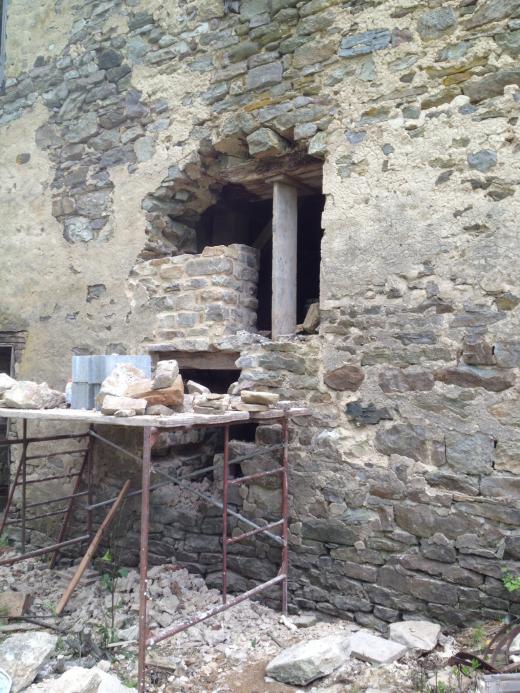 Picture: Matt Ferdock 2013
Mill repairs are underway.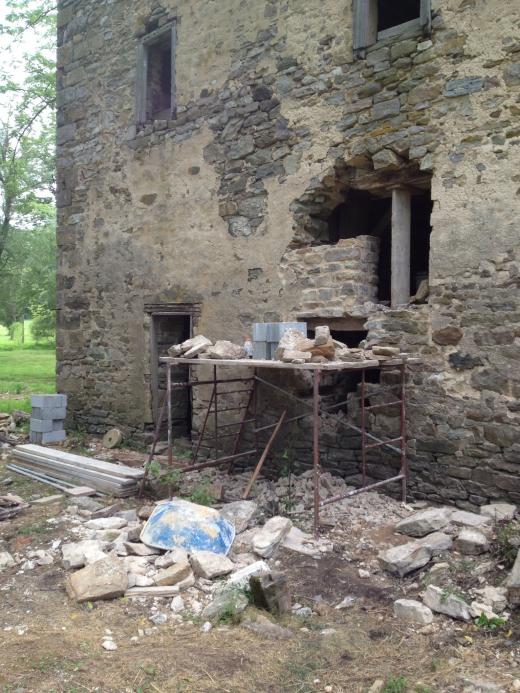 Picture: Matt Ferdock 2013
Repairs to mill are underway. This is on the east facing side.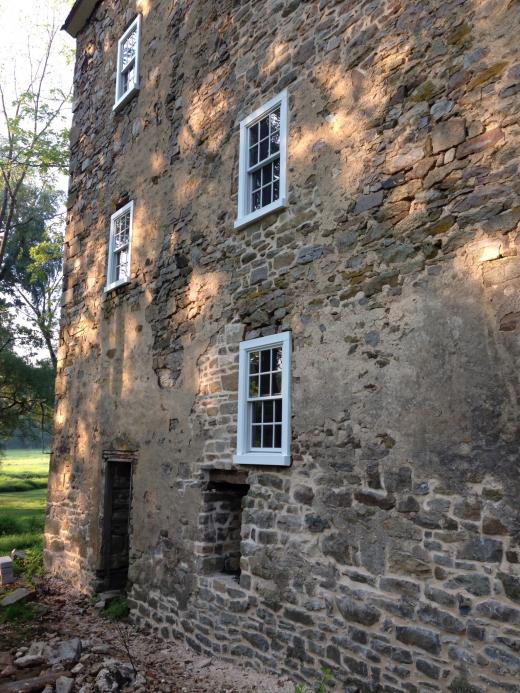 Picture: Matt Ferdock 2013
It looks like the restoration was a little while in coming, from perhaps in 1989 to definitely in 2013.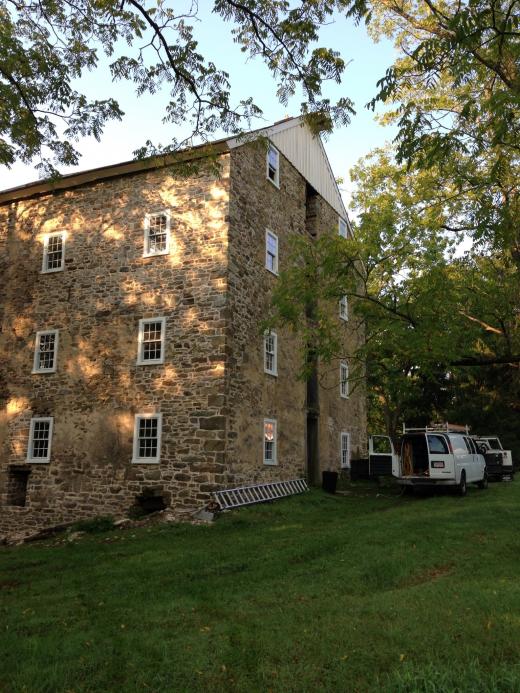 Picture: Matt Ferdock August 2013
Mill undergoing extensive renovations begun in 2012. Renovations to include cleaning out the wheel room, restoring the foundation, stabilizing the roof, replacing all windows.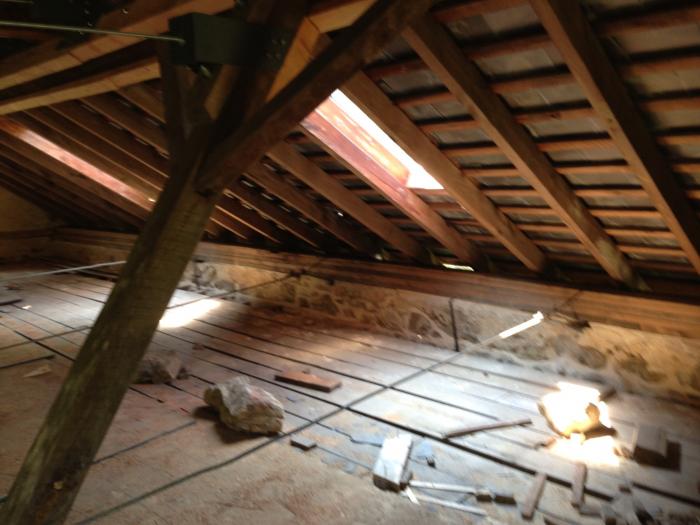 Picture: Matt Ferdock 2013
Stabilizing the roof.
Picture: Jim Miller 10/03/1987
The miller's house was being destuccoed at the time of the visit, it being first because of a scarcity of funds.
"But the mercy of the Lord is from everlasting to everlasting on those who fear Him, and His righteousness to children's children, to such as keep His covenant, and to those who remember His commandments to do them."
(Psalm 103:17&18 NKJV)
Directions: At the junction os Pa 29 and Pa 100 south of the Village of Hereford, take Seisholtsville Rd./Sr 1010 north,turning right onto Deer Hill Rd./T 922 to Sigmond Rd./T 916. Cross over Sigmond Rd., and T 922 becomes Weaver Rd. The mill is on the right about 0.2 miles on Weaver Rd/gravel.
Upload Pictures