Hershey Mill
Chester Co. | Pennsylvania | USA | u/k
Township: East Goshen Twp. | Watersource: West Br. Ridley Creek.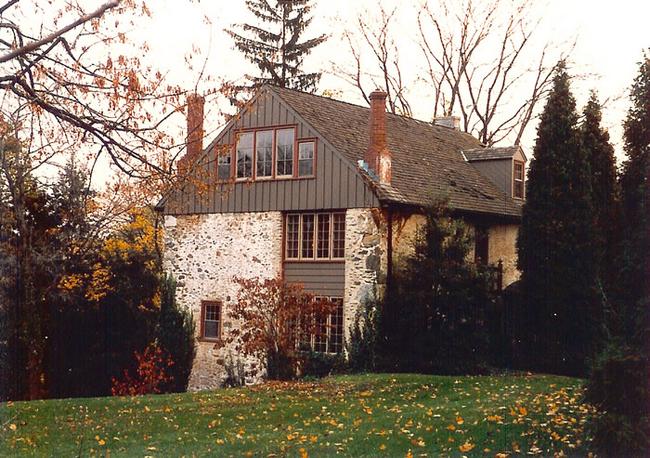 Picture: Jim MIller 10/30/1987
The old mill, a 35'X 50' 3.5 story sandstone/stucco structure, has been restored as private residence since before 1987.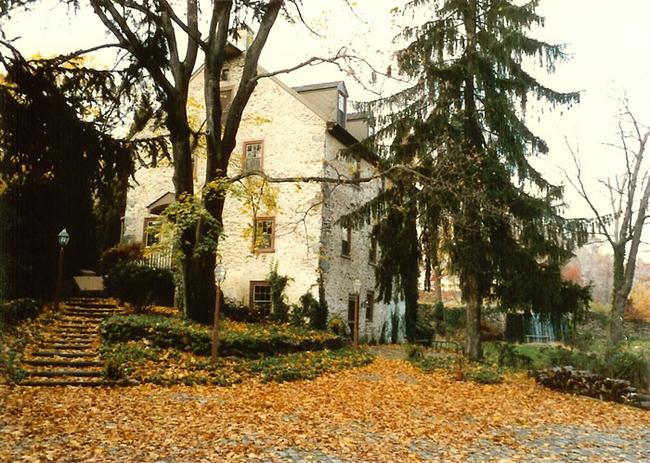 Picture: Jim Miller 10/30/1987
The stone dam is located behind the Greenhill/ Hershey Mill Road residence. The renovation makes for a very nice small country estate. Need info. as to mill history and date built, etc.
Picture: Dean Pierce 01/04/2008
*Update: Hershey Mill was converted in the early 1960's by a wealthy Californian. Lucille Ball came to one of the parties he held when the mill was newly renovated. He died soon after the renovation - enroute back to California. The Estate was in probate for years to figure out the ownership. The original wooden wheel was removed and reportedly put in pieces under the brick floor on the ground floor. The three car garage contained chauffer's quarters and two 1961 Imperials. The Paddock Pool was one of the first inground pools in the area.
Picture: Robert Cosby
Presentation discussing age of Hershey Mill complex showing historical photos and maps. Right click on photo icon to open pdf.
" 'As for Me,' says the Lord, 'this is My covenant with them: My Spirit who is upon you, and My words which I have put in your mouth, shall not depart from your mouth, nor from the mouth of your descendents, nor from the mouth of your descendents' descendents,' says the Lord, 'from this time and forevermore'. "
(Isaiah 59:21 NKJV)
Directions: East of the US 202 / US 30 (LINCOLN Hwy.) interchange on US 30 a half mile, turn right on Ravine Rd., go 0.7 miles to W. King Rd. Turn left on W. King Rd. and go 0.5 miles, turn right on Hershey Mill Rd. Go 1.6 miles to Greenhill Rd. The mill is on the left corner at the junction.
Upload Pictures