Boston-Thompson Mill
Linn Co. | Oregon | USA | Orig.-1856, Present-1866
Township: N/A | Watersource: Calapooia River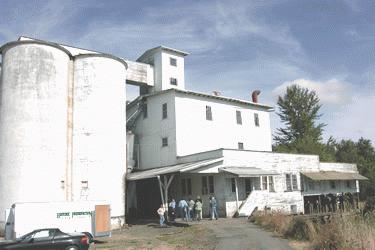 The original mill on this site, although several other possible sites for earlier mills are nearby in the old Boston town platt, was built between 1856-58. The builders Finley, Crawford and Brandon named it Boston Mill after the growing community of which it was a part. A few houses of the old town still exist. The fire heart sickened the trio on October 25, 1862, having left nothing but charred ashes; however, it was soon rebuilt, from the ashes as it were, and back in operation by 1866. Soon after the rebuilding, Finley joined with an English miller named Simmons; eventually combining the strengths of several more of the Simmons family. Martin Thompson, a native of Germany, obtained the Finley interest of the mill in 1891 and became the sole owner in 1897; when he bought-out the Simmons family share of the mill. He soon converted, from using millstones to grind, to a roller operation using steel rollers. The end result was a vastly increased production.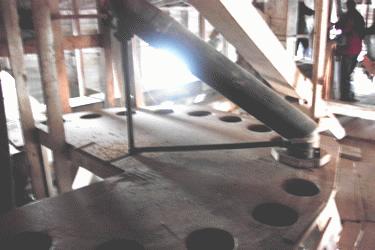 This designed-on-site grain diverter in attic, diverted grain to various places within the mill for different processes to be rendered. Martin originally hailed from Hattstedt, a small hamlet a few miles north of Husum, Schleswig-Holstein, Germany. He emigrated to America in 1870 initially to New York, then on to Benton Co. Iowa, where he became a farm laborer for other German immigrants. He married at this time and had a first daughter with his wife, Sophia. A stopover in Grand Island, Ne. resulted, in Martin and two brothers, Peter and August, along with Martin's family riding the rails westward to The Dalles, Or.
Crossing over to Washington, Martin built a grist mill up the White Salmon River in an area known as The Falls. He changed the name of the existing town and Post Office from Wilkinsheim to Husum in honor of his native area in Germany. Four sons joined the family at Husum, then it was on to Cascade Locks, Wash., Elmira, Glencoe (two more sons born)) Champoeg, Turner and lastly Boston (all these towns in Western Oregon. The sons born at Glencoe later returned to Husum and built an electric generating plant which a third son operated for some years.
Boston was a 1-2 miles east of the present town of Shedd, Or. Martin Thompson, a grandson of the 1891 & 1897 purchaser of Thompsons Mills, is still living and quite interested in thr preservation of old mills, the Thompson Mills in particular. The Boston Mill Society, a tax exempt organization, has been formed to try, through memberships, donations, Friends Groups and other methods to promote interest in the purchasing, from the current owners, the mill so that it can be restored and preserved for future generations for it's historic, educational and even nostalgic qualities. Late in 2004, the State of Oregon Parks & Recreation Dept. purchased the mill property with the object to restore it to an operating/educational historical park for all to enjoy.
Photos: **September 2003 Jim Miller**
"Fear not, for I am with you; be not dismayed, for I am your God. I will strengthen you, yes I will help you, I will uphold you with My righteous right hand."
(Isaiah 41:10 NKJV)
Directions: Boston Mill Road off U.S. Hwy 99W at Shedd. 2 miles east at the Calapooia River.
Upload Pictures