Yukon Flour Mill & Grain Co
Canadian Co. | Oklahoma | USA | 1900-02 / used as a warehouse in 2005
Township: n/a | Watersource: Electricity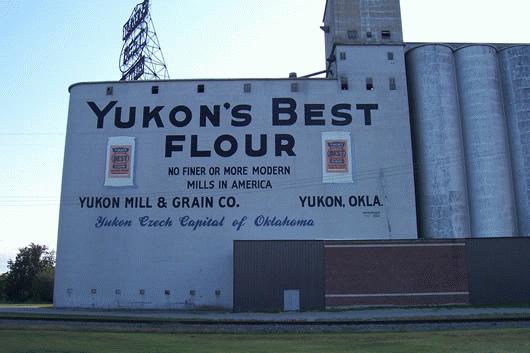 Picture: Jim Milier 10/2004
The mill and storage silos were built in 1900-02 by John F. Kroutil and operated by him and the Dobry family until the 1930's, when the Dobry's moved across E. Main St. and started their own milling enterprise. The earlier association had come about as a result of a Dobry marrying John Kroutil's sister. The advertisement on the mill champions Yukon's Best Flour. A fire early on in its operation destroyed a lot of the original mill structure; but, the mill was rebuilt and continued to operate, the fire being a chance to upscale and incorporate new methods and to correct original engineering glitches. The framework on the roof of the mill is comprised of individual bulbs that light to spell out Yukon's Best Flour at night.
Picture: Jim Miller 10/2004
Southwest face of the silo/mill complex at Yukon Mill & Grain Co., in Yukon, Ok. on E. Main Sr. and S. 3rd St. at the Chicago, Rock Island, and Pacific Railroad crossing.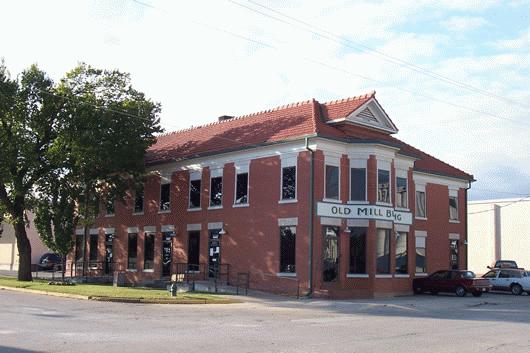 Picture: Jim Miller 10/2004
A brick mill building that was the offices and scale house of the Yukon Mill and Grain Co. It has now been renovated to house offices of the Youth and Family Services for Yukon, Oklahoma. The mill was bought by the Shawnee Milling Company of Shawnee, Oklahoma in the 1970's and between then and 2004, was sold to MFC CO-OP and is now used as a warehouse for the MFC CO-OP across Historic Route 66.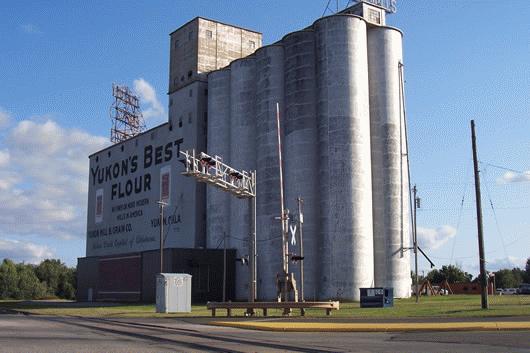 Picture: Jim Miller 10/2004
It is a very good representation of a mill/elevator combination using modernistic design in the architecture. UPDATE: **Jerry Freeland 04/13/05 -- Mr. Freeland lives in John Kroutil's 1917 house overlooking the mill and provided info. about John Kroutil's and the Dobry's involvement with the Yukon/Kroutil Mill.**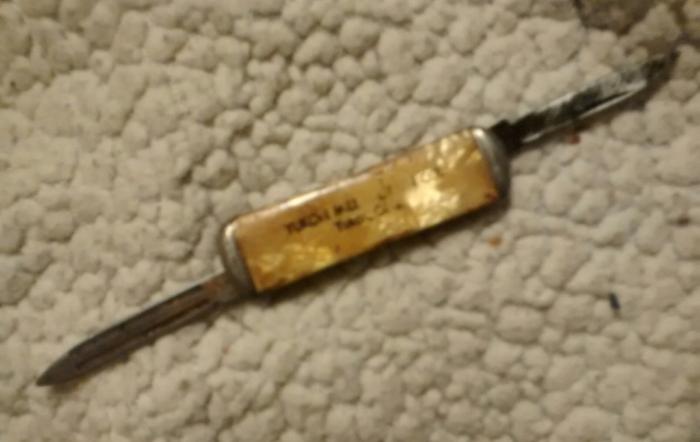 Picture: Shelley Goff
Knife given to my grandfather Archie Free in the mid 1940's as an appreciation gift for deliveries he made for the Yukon Mill & Grain Co.
"And my God shall supply all your need according to His riches in glory by Christ Jesus."
(Philippians 4:19 NKJV)
Directions: Off I-40 in Yukon, Oklahoma on Ok66(Old US66), E. Main St., and S.3rd St. at the Chicago, Rock Island, and Pacific RR crossing.
Upload Pictures