Turnback/Halltown/Britain Mill
Lawrence Co. | Missouri | USA | 0rig. 1840, restored 1976, rehabilitated 2005
Township: Ozarks Twp. | Watersource: Turnback Creek.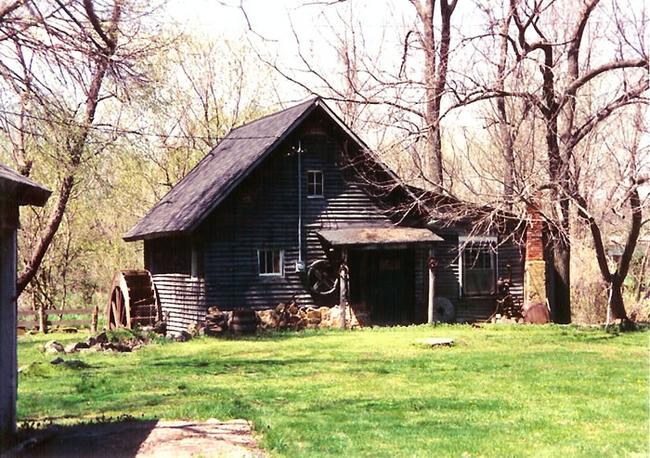 Picture: Jim Miller 04/16/1993
The small 1.5 story frame mill was built from 1976-1978 by the late Spoom member, Bill Cameron in memory of his wife Letha, on the foundations of the original Turnback Mill of 1840.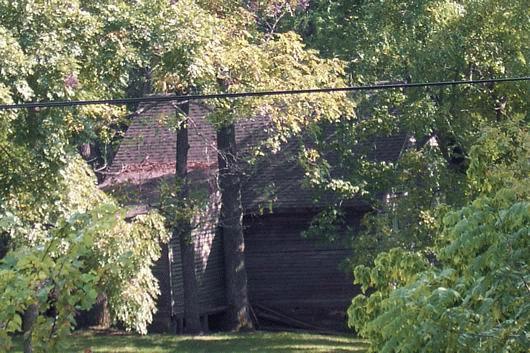 Picture: Jim Miller 08/04
View of the Turnback Mill from the Turnback Creek bridge on US 96.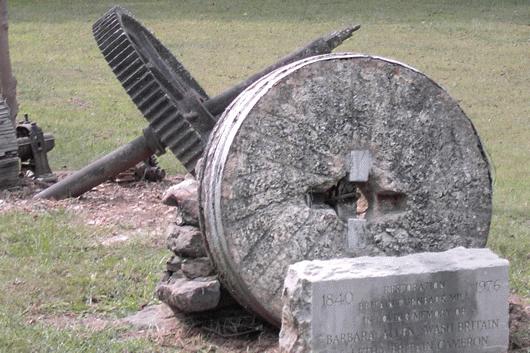 Picture: Jim Miller 08/04
The property is fenced now, as Mr. Cameron died a few years ago and the mill is quite the worse for wear and little maintenance. This monument to Mrs. Cameron placed by Bill Cameron to commemorate his wife's life and passing. A millstone and some mill gearing behind. Best photo opportunity: AM.
Picture: Brad Zweerink
Inside View, Fall 2015
Picture: Clyde Beal 12/26/05
*Update: View of the new water wheel at the Britain Mill installed in late 2005. Since being rehabed in 2005, processing is limited to corn meal and grits. 12/26/05 Clyde Beal*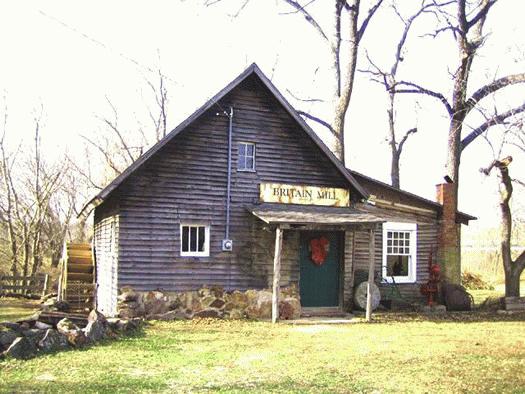 Picture: Clyde Beal 12/26/05
The mill in September 2004. *UPDATE: The new owner Clyde Beal, lives next door to the mill property. He reported in early September that new flooring and windows had been installed in the office to the right side in photo; that a new roof was put on in June 2004. Inside a lineshaft with pulleys is in place and an electrical Meadows mill is operational. Also an elevator feeding a sifter for corn meal and grits was installed. Operation via water power is still hoped & planned for in the future. Clyde Beal* Check out the website above for the Turnback/Britain Mill.
Picture: Clyde Beal 04/28/2009
*Update: This mill has been painted for the first time, ever, this year. In addition, most of the surrounding trees have been removed in April by the local power company. Clyde Beal 05/05/2009*
"For judgment is without mercy to one who has shown no mercy. Mercy triumphs over judgment."
(James 2:13 NKJV)
Directions: The mill is about 20 miles SW of Springfield, Mo. Take exit 57 from I-44 westbound. Continue on SR96 for about 1.5 mile to Farm Road 1207 (just before crossing Turnback Creek). South on FR120 for 300 yards to the mill on the right. *Updated directions, Clyde Beal, owner. 11/17/2006*
Upload Pictures