Rhodes Mill
Worth Co. | Iowa | USA | 2012
Township: Fertile Twp. | Watersource: Winnebago River.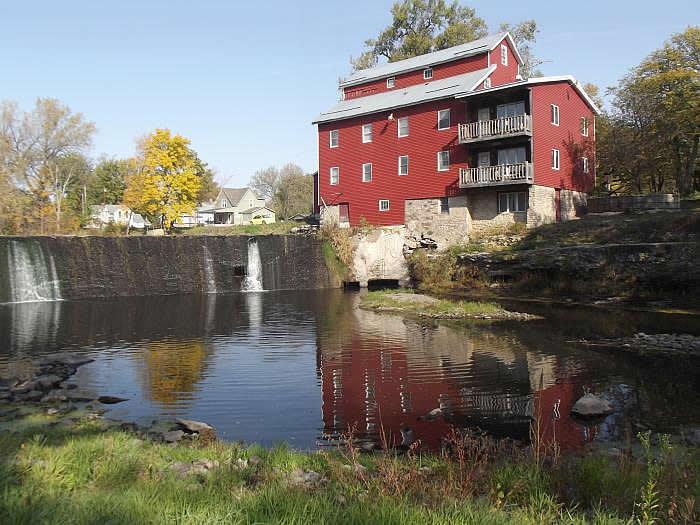 Picture: Duane Klipping 09/2012
William Rhodes Island Park is located along the scenic Winnebago River across the river from the mill. Fertile was founded by William Rhodes, a Canadian who came to Iowa in 1858, built a sawmill, then in 1868, it began to process wheat into flour. Rhodes Mill was built on Lime Creek, now known as the Winnebago River.
Picture: Bill Wittaker wikipedia.com
Here you can view the Fertile Dam as well as the Rhodes Mill, recognized as a national historic landmark. The "History of Mitchell and Worth Counties," published in 1918 described the mill as being "34 by 42 feet in dimensions, two and one-third stories high, had three runs of stone, and a capacity to turning out 50 barrels of first class flour per diem." It is further stated in the book, "Lime Creek at Rhodes Mill in Fertile has a fall of 11 feet and develops 70 horse power."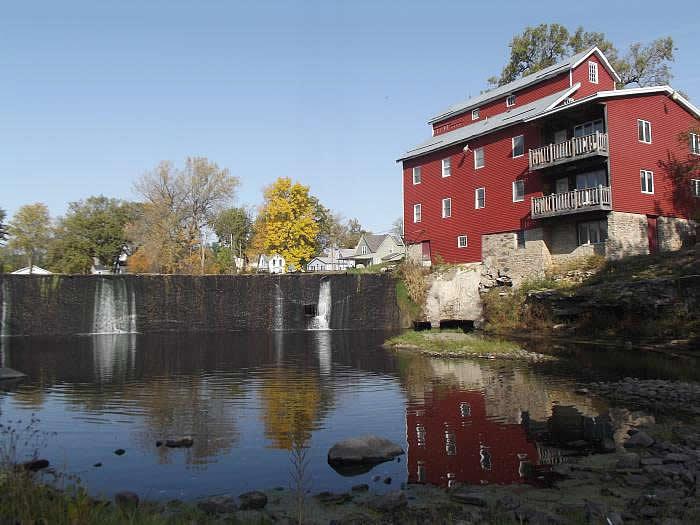 Picture: Duane Kippling 09/2012
The mill is a 2.5 story frame mill, with clerestory, built on a stone foundation plus one story stone. GPS: 43D 15.84'N, 93D 25.29'W ele. 1,161'/354 meters Fertile Quadrangle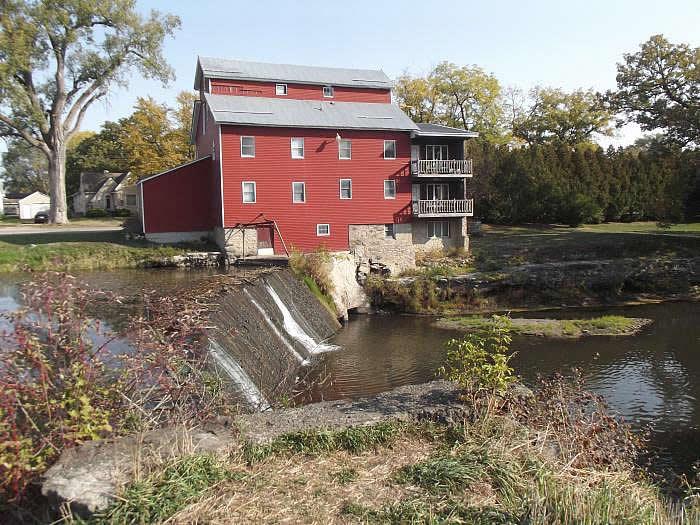 Picture: Duane Kippling 09/2012
The mill operated into the 1930s. The building was restored in 1971 and is now the Rhodes Mill Retreat, a general retreat/events center with rooms for guest accommodations - and second home for owner Anne Jones of Tulsa, Okla. The building is listed on the National Register of Historic Places.
All the world is God's own field, Fruit unto His praise to yield. "Come, Ye Thankful People, Come" by Henry Alford 1810-1871
()
Directions: The pvt res., built in 1868, is located on Main Street, one block west of the four corners in Fertile along the Winnebago River.
View Larger Map
Upload Pictures