Site: Dublin Milling Co. Inc.
Bucks Co. | Pennsylvania | USA | 1923
Township: Hilltown Twp./Dublin Boro. | Watersource: Always electric powered.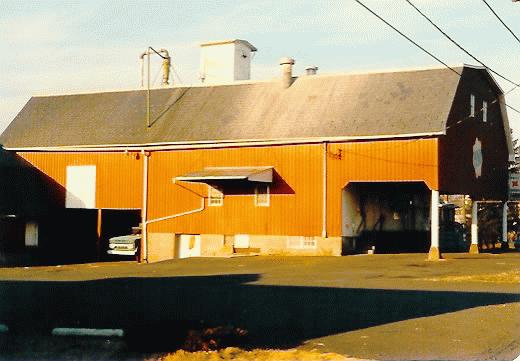 Picture: Jim Miller Fall 1987
A frame 3 story mill plus partial basement with a large forebay 3rd and 4th story overhang with 3 foot diameter steel posts to support the forebay. The basement was of poured concrete very likely some of Henry Mercer's work. Two other drive thru and back in loading bays to the rear of the 45'x100' mill building by roof width and length. This pic is of the enlarged, original mill resided with prepainted red metal siding after the takeover by Farm Bureau in the late '60s/early '70s.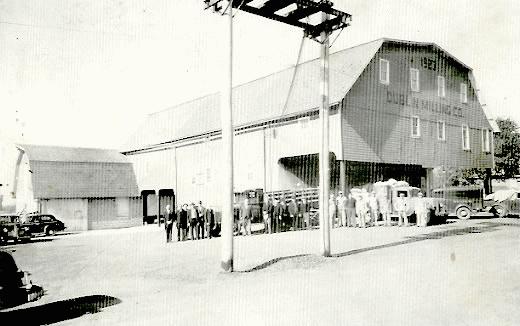 Picture: unknown c. 1940
Fire destroyed the 1923 mill in the mid-late 1970's and Farm Bureau rebuilt with a smaller feed store/warehouse complex. This picture is circa 1940 from a calender of that period.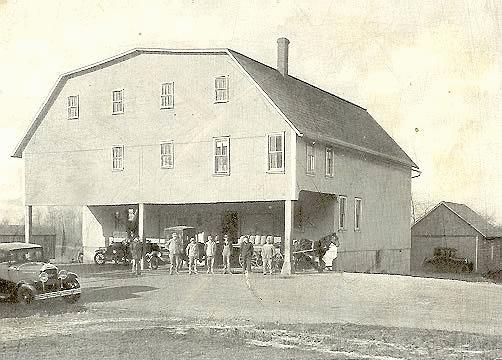 Picture: unknown c. 1928
An earlier mill on the same site was known as the Rosenberger Mill. More info and research is needed for this former mill. This picture is circa 1928 also from a calender promoting the mill and it's products circulated to it's customers.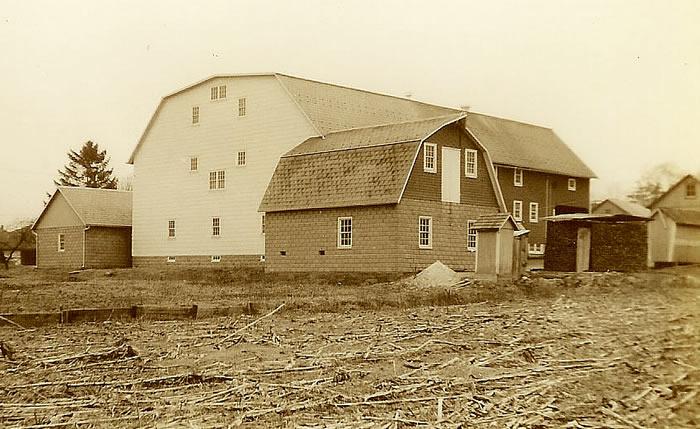 Picture: Samuel O. Miller 1950's
A view of the cornfield to the northwest.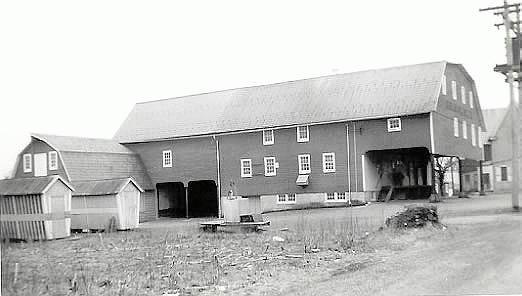 Picture: Samuel O. Miller 1950's
This photograph was taken by my father, Samuel O. Miller, who worked at the mill from about 1928-1964. The mill house in the background was our house, half of it, the first five years of my life. The house was torn down before the mill burned and was replaced by a Sunoco Service Station which fronts on both Pa 313 and Mill St.
"I beseech you therefore, brethern, by the mercies of God, that you present your bodies a living sacrifice, holy, acceptable to God, which is your reasonable service."
(Romans 12:1 NKJV)
Directions: In Dublin Boro. 9 miles north of Doylestown on Pa 313 turn left on Mill St. one block north of Dublin Road. Mill was back on Mill St. about 0.5 blocks. The buiding occupying the site is a smaller mill/feed store operated by either Farm Bureau or Agway.
Upload Pictures