M.S.Graybill Mill
Lancaster Co. | Pennsylvania | USA | Pre 1899
Township: Upper Leacock Twp. | Watersource: Non water-powered
Picture: Robert T. Kinsey 01/02/2007
The pre 1899 feed, grain, coal, & lumber mill just south of Bareville does not appear to have been ever water-powered. All photos taken by Robert T. Kinsey on Jan 02, 2007.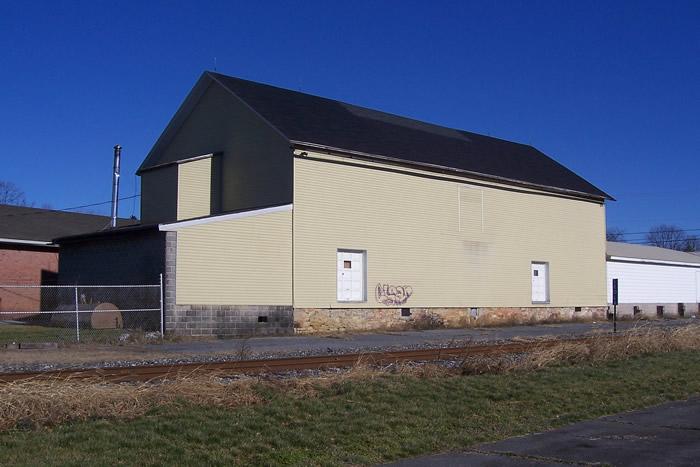 Picture: Robert T. Kinsey 01/02/2007
The side against the tracks was to the left of the front entrance and a two-windowed clerestory, from 1900, has been removed, as is evidenced by the shingled patch.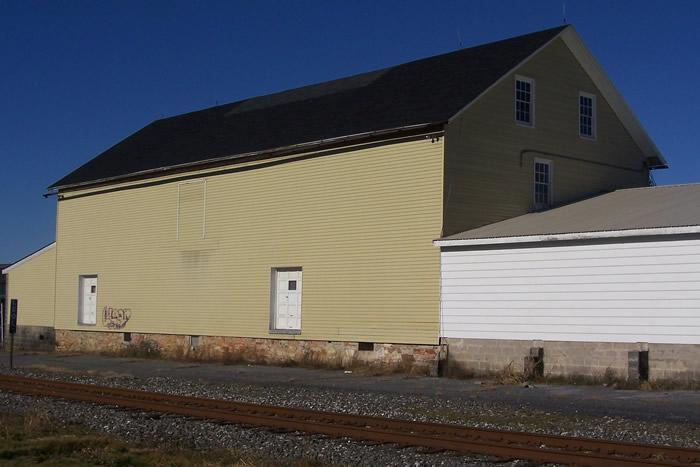 Picture: Robert T. Kinsey 01/02/2007
A sign on the building in the olod photo states that Fairbanks Standard Scales were in use. Another sign states: Baugh Animal Bone Fertilizers for sale here.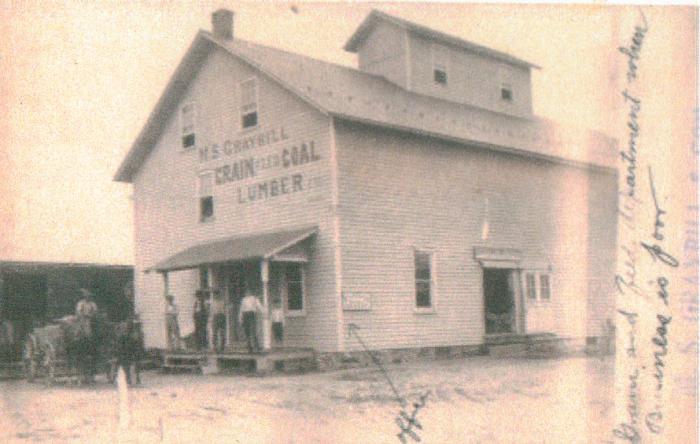 Picture: Diane LaMonica
M.S. Graybill feedmill, then went to Floyd Graybill, who took John Harry from a boy's home as his child. John Harry married, Ella Martin, their son Richard L Harry went in partner ship with John Harry, then bought Grandma Harry's interest & now the property is in Myrtle Harry's Name. Here is the mill when my great, great, Grandpa had the mill, before dad turned it into a furniture store.

Picture: Richard Harry
This sign was hanging on a rafter in a shed.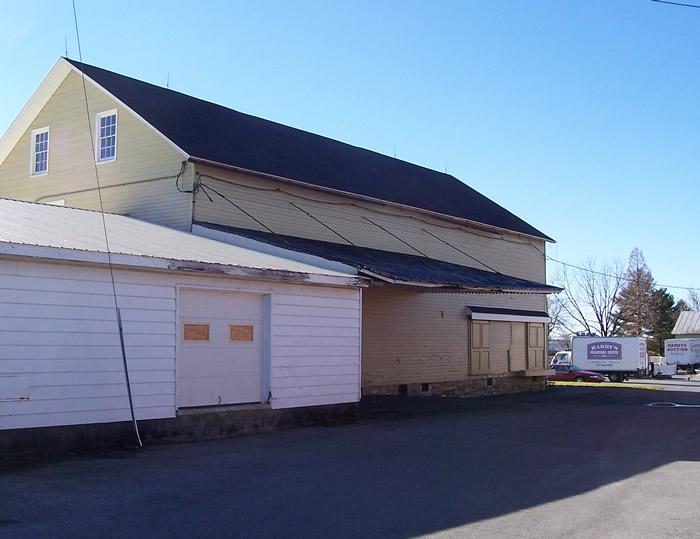 Picture: Robert T. Kinsey 01/02/2007
The owner's operate a modern furniture store, Harry's Furniture Center, Inc. on the off track side of the mill just to the right in the photo. The old mill is used for storage for the furniture store. An early picture from c. 1900 has the mill as painted gray with white trim. The end with the larger white, one-story shed built onto it was the main entrance in 1900, with a two-thirds porch on the right side end.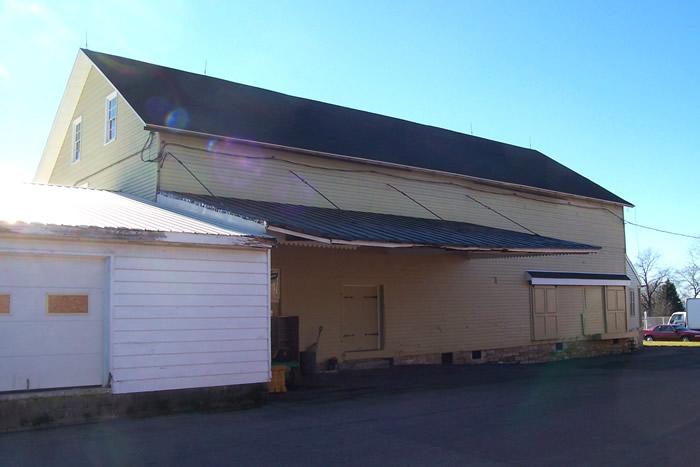 Picture: Robert T. Kinsey 01/02/2007
The owners said their grandfather worked at the mill and built the associated house. A older women who used to work at the mill, said that it was owned by C.w. Hershey at that time. Also an Atlas for Lancaster Co. for 1899, indicated C. W. Hershey Grist Mill at this location; although the old photo indicated the mill as C.M. Graybill Mill.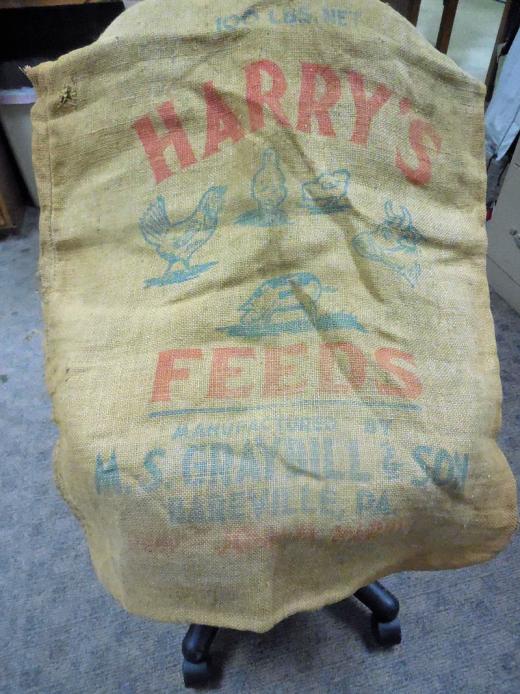 Picture: Diane Harry LaMonica
We recently found a feed bag for sale.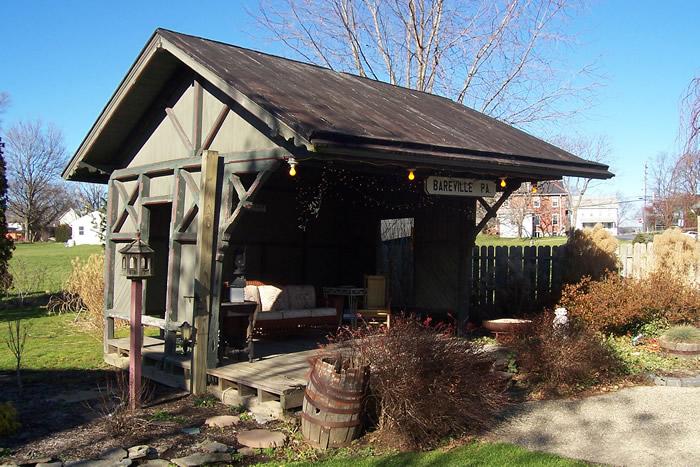 Picture: Robert T. Kinsey 01/02/2007
The furniture store owner, mill owner, said that the building in his back yard was part of the train station across the street from the mill. GPS: 40' 5.37N, 76' 9.83W 436'/133 meters Harrisburg Quadrangle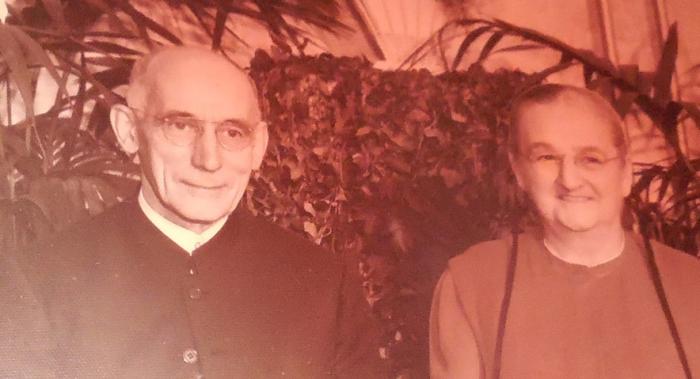 M.S.Graybill with his wife Hettie.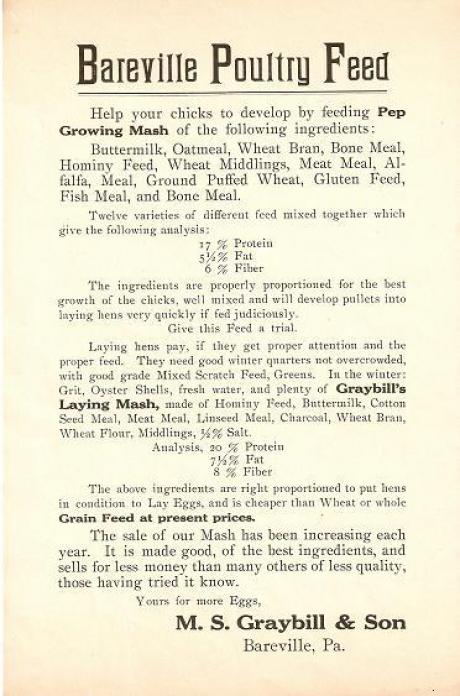 Picture: Diane Harry LaMonica
Feed recipe page for Bareville Poultry Feed, manufactured by M.S. Graybill & Son, Barevill, Pa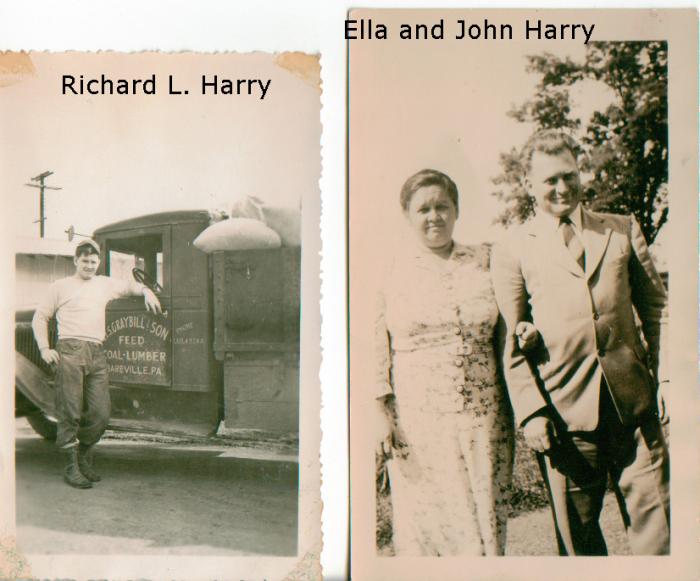 Picture: Diane Harry LaMonica
Richard L. Harry with company truck, Dad's parents John & Ella Martin Harry
Be Thou my Vision, O Lord of my heart, Naught be all else to me, save that Thou art. "Be Thou My Vision" Traditional Irish Hymn
()
Directions: From Pa 23 go south of Bareville on Graybill Road for 0.2 miles to the mill on the north side of the RR tracks, west side of the road.
View Larger Map
Upload Pictures