Roddy/Waggoner's Mill
Perry Co. | Pennsylvania | USA | Roddy's Log-1762/Waggoner's Stone-1812-1839
Township: North East Madison Twp. | Watersource: Bixler's Run.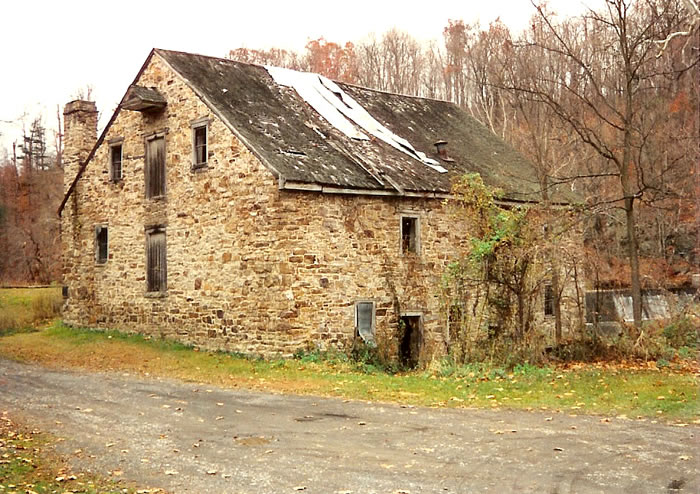 Picture: Jim Miller 10/1992
The original log mill was built by Alexander Roddy in 1762 and ground corn meal & flour. Alexander's son James ran the mill from 1784, then sold to James Moore, who sold it again to James Irvin. Two months later Irvin sold to Henry Rickard. David Showers owned and operated the log mill from 1804-1812, when he sold to Frederick Briner. In the fall of 1992, the mill was fair condition. Some windows were out and a tarp covered a portion of the southeast side of the roof.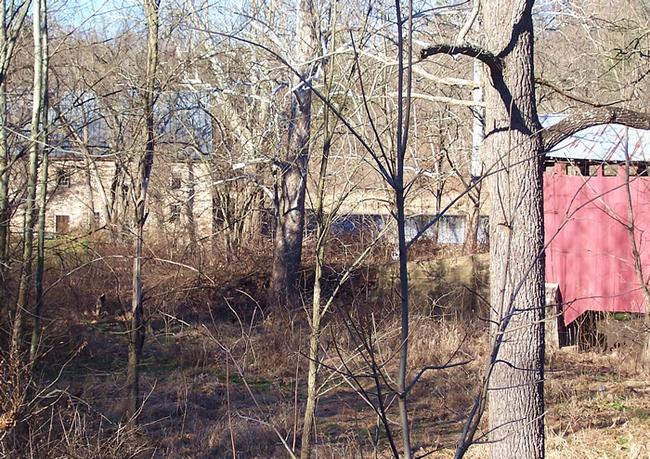 Picture: Robert T. Kinsey 01/03/2007
The current 35'x50' stone mill was built about 1812-1830's by Frederick Briner, who sold it to Benjamin Waggoner in 1839. The mostly fieldstone 2.5 story mill sits beside a dam on Bixler's Run, a tributary to Sherman Creek, in the extreme southeast corner of North East Madison Twp., Perry Co. Pa.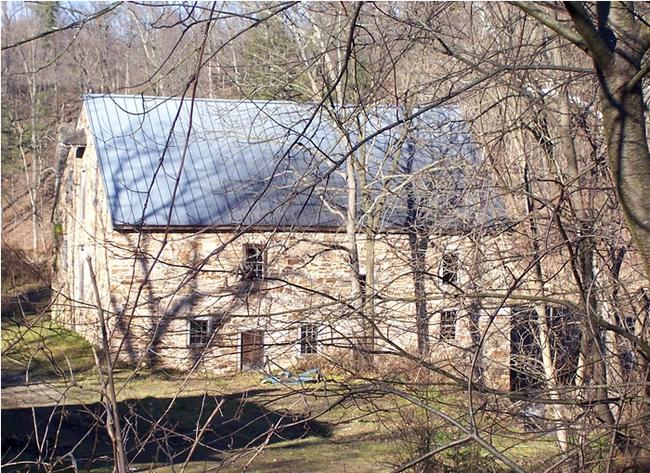 Picture: Robert T. Kinsey 01/03/2007
Briner's son, Henry ran the mill from 1816 until his death in 1831. In the interum, William Miller, Jacob Weibley, & John Weidman owned the stone mill. Benjamin Waggoner bought the mill in 1839 and it wasn to remain in the Waggoner family for over 100 years. Benjamin died in 1850; whereupon, brother Moses continued the operation until his death 26 years later.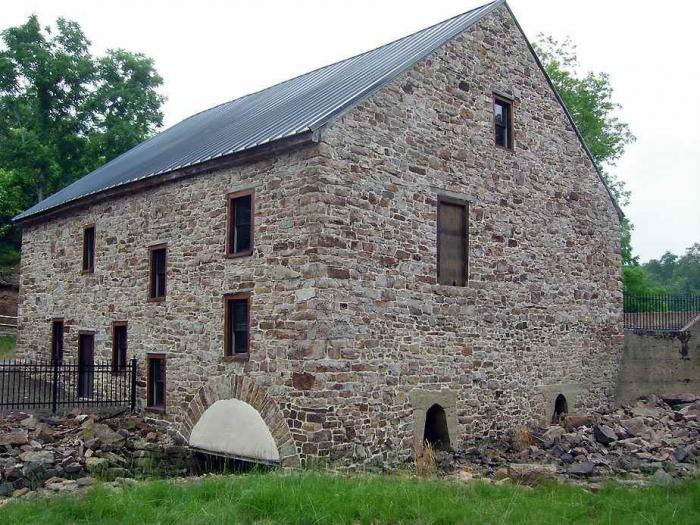 Picture: Ted Hazen
The Amish from Lancaster County have recently restored the mill building. They have restore the broken sagging first floor of the mill. The mill contained two Fitz Water Wheels, two pairs of millstones and a roller system. Inside of the Miller's Office at one time you could open a wall panel that reviled two built in bunks so if the miller and his helper worked late into the night. They would have a place to sleep. They are also have been restoring the Miller's House. The Waggoner's Covered Bridge sits in the middle of two township boundary lines, and it has always been in question whose responsibility the bridge repairs belong to. It is not clear if the mill is open to the public or if it is just an private Amish site.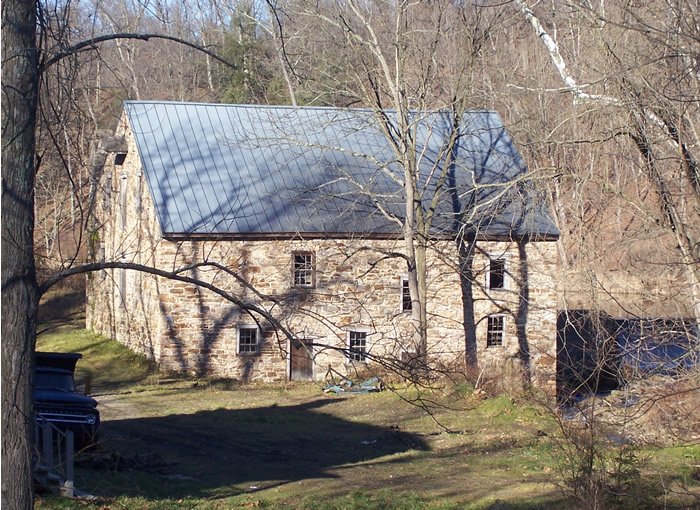 Picture: Robert T. Kinsey 01/03/2007
W. H. Waggoner took over operation, installing the new roller system in 1900, and operating til his death in 1921. J. A. Clark partnered with Jennie Waggoner in 1936. By 1976, there were still many pieces of milling equipment within the mill, such as the water Wheel, wooden gears, mill stones, and the flour mill rollers and mechanisms. It has certainly been inproved upon sice 1992, with a new roof and windows and some stonework redone. GPS: Long. 77' 22.34, Lat. 40' 21.54
"You will never get into God's kingdom unless you enter it like a child."
(Luke 18:17 CEV)
Directions: Less than 2 miles west of Loysville on Pa 274, turn right onto T 579. Travel about .2 miles, going though Roddy's/Waggoner's Mill Covered Bridge to the mill on the right.
Upload Pictures