John Martin Mill / Coada Mill
Blount Co. | Tennessee | USA | First mill 1796, this mill not known
Township: Townsend Twp. | Watersource: Cheney Creek, a tributary of Dumplin Creek.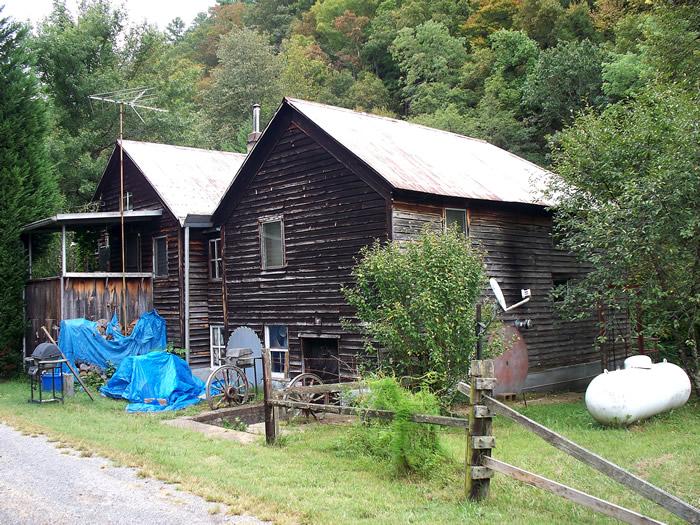 Picture: Robert T. Kinsey 09/09/2010
It is believed that a man named Hess (Hesse) built the first mill on this site in 1796.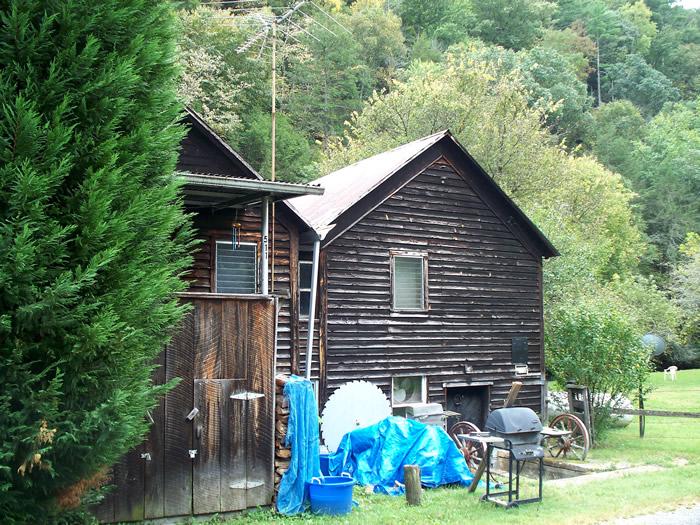 Picture: Robert T. Kinsey 09/09/2010
The mill consists of almost twin parallel structures joined together, the one on the right perhaps having been the saw mill, while the left one the grist mill.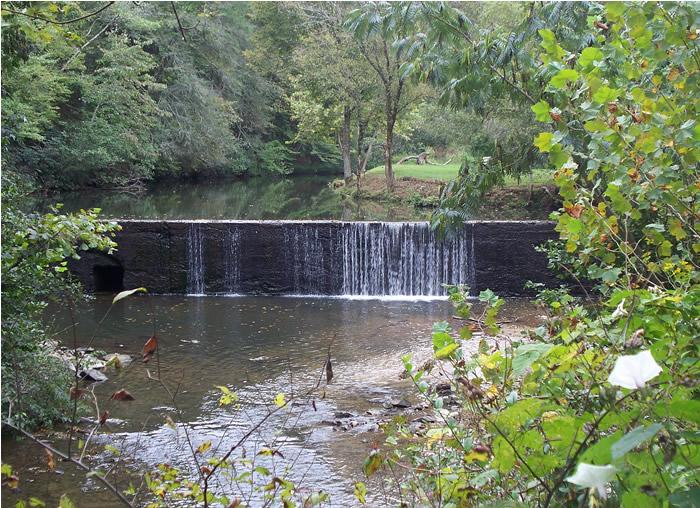 Picture: Robert T. Kinsey 09/09/2010
The dam on Hesse Creek behind the mill structure. The mill is now a private, family dwelling.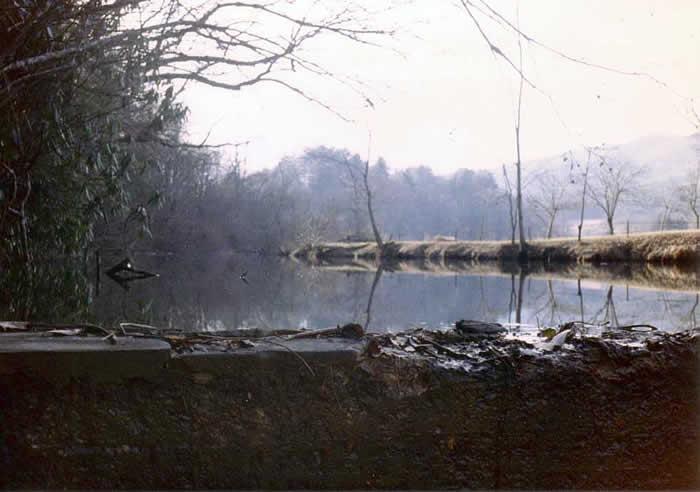 Picture: Kevin Bannister 1988
Looking at the face of the concrete dam, across the millpond with the surrounding hills and ridges. Taken by Kevin Bannister in 1988.The mill and dam on Hesse Creek. GPS: 35' 42.55'N, 83' 49.40'W 965' elevation Knoxville Quadrangle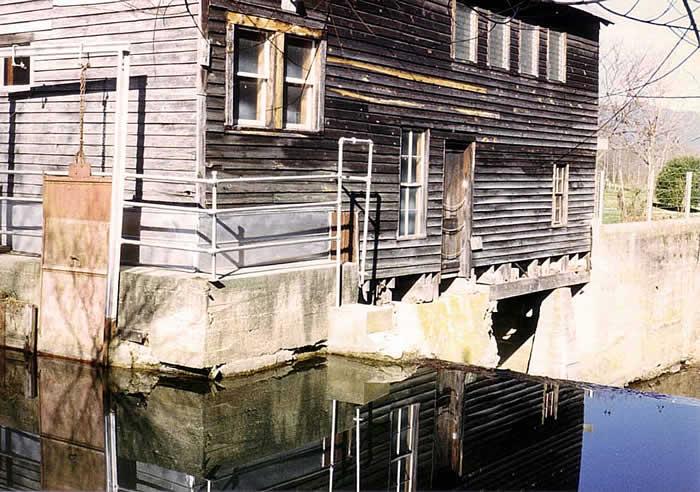 Picture: Kevin Bannister 1988
Sluice gate on the backside of the mill, and upstream of the dam. Taken 1988. *Update: I lived in the John Martin Mill in 1988 for about a year. Charlie Coada, and his wife Eula, were still living at that time. It was a wonderful place to live and I wish I could have stayed there forever. The log foundation to the first mill, built in 1796 by John Hess, is located about 100 yards downstream from the dam. At the time I lived there, it was still visible on the far side of the stream just below the swinging bridge.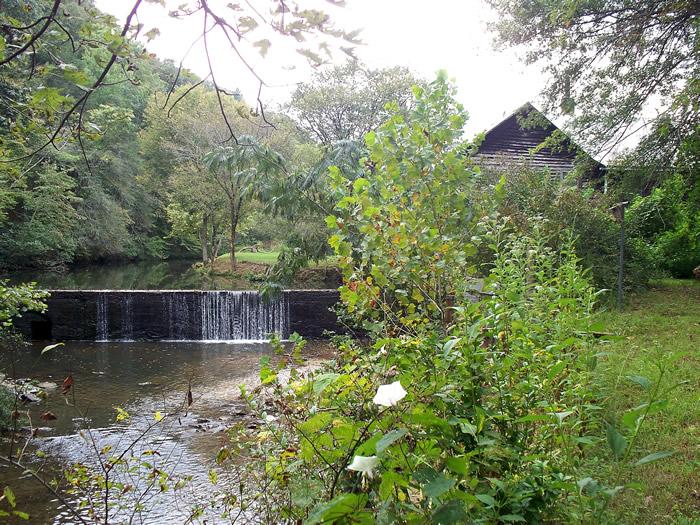 Picture: Robert T. Kinsey 09/09/2010
Update cont'd: There is a partial log dam behind the present concrete dam, that is a couple of logs high. I helped Charlie drain it that summer, to get the sediments to move on downstream. I also helped him repair the lower sluice gate in the turbine chamber below the dam. We closed the upper gate and opened the lower gate to drain the chamber and he built a new gate and I installed it. We caught a huge mud turtle below the dam and ate that fellow too along with several fish. He was mighty good rolled in fresh ground corn meal from the grist mill and fried.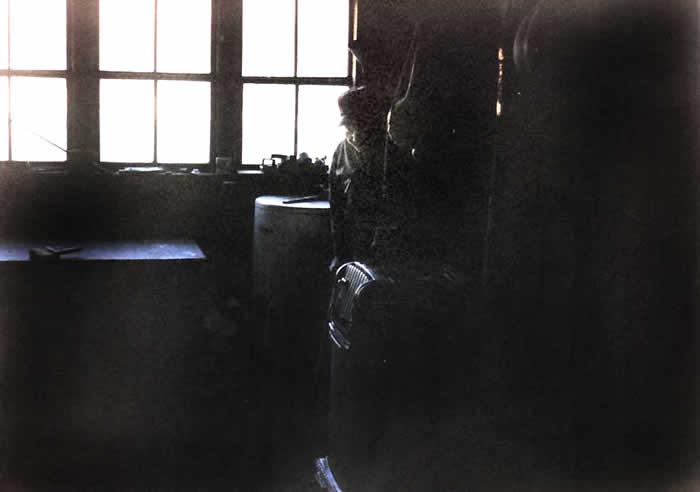 Picture: Kevin Bannister 1988
Charlie Coada, the owner at the time I lived there, in the mill workshop. He rented it to me for $100 per month. It was hard to heat in the winter as it only had a wood burning stove. Photo taken by Kevin Bannister in 1988.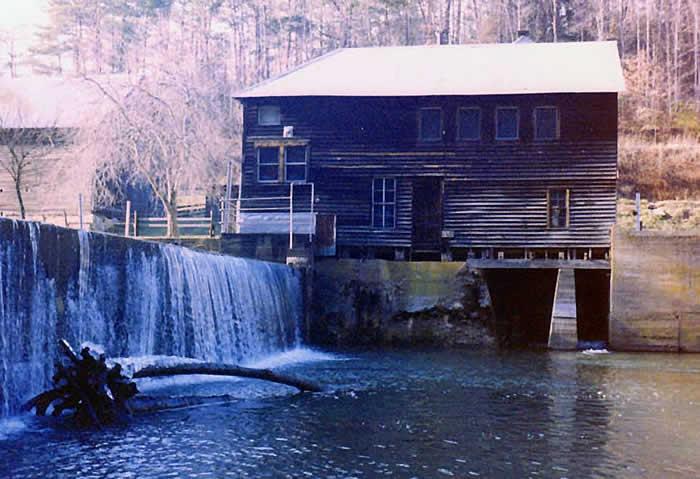 Picture: Kevin Bannister 1988
The mill from far side of Hess creek. The upper story was an apartment, the lower story was Charlie Coada's workshop and contained a working grist mill, in which he would grind corn meal. It had two turbines; a large one that drove the millstone, and a smaller one that ran equipment in the workshop. Taken 1988.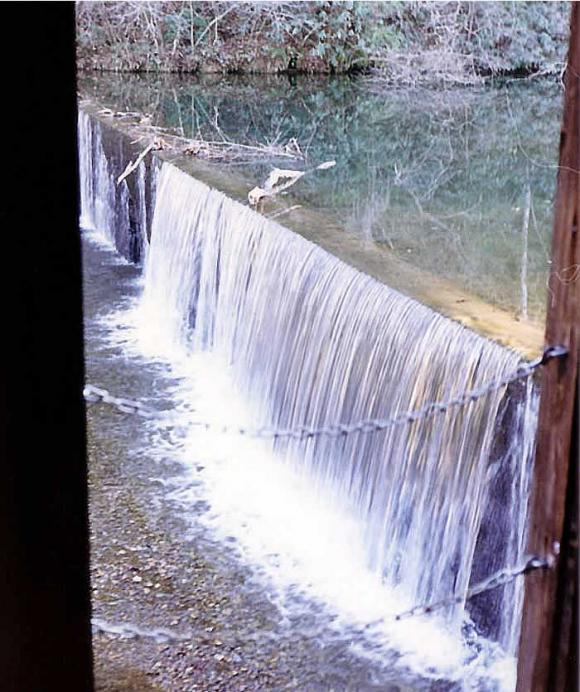 Picture: Kevin Bannister 1988
The dam, from inside the turbine room of the mill. Update cont'd: There is also a natural face in the stone at the base of the dam. It looks like a man and you can see it only at certain times of the day, after the sun casts a shadow below the dam. I was astounded the first time I saw it and I don?t think very many people are aware of it. You might mention it on your site, to see if anyone has ever photographed it. Taken in 1988 by Kevin Bannister. Submitted 03/091/2012*
Mine eyes have seen the glory of the coming of the Lord....His truth is marching on. "Mine Eyes Have Seen the Glory" by Julia Ward Howe 1819-1910
(From the Nazarene hymnal - Sing to the Lord)
Directions: Located southeast of Maryville. Take US 321/Sh 73/ E. Lamar Alexander Parkway east from Maryville about 7 miles to Foothills Parkway. Continue another 0.3 miles and turn right on W. Millers Cove Road. Go about 0.6 miles and turn left on Mill Loop Road. Continue about 0.5 miles to the mill on the left about the end of the road (the road no longer loops)
View Larger Map
Upload Pictures