Taylorstown Grist Mill
Loudoun Co. | Virginia | USA | Earlier log mill 1730's, this mill c.1800
Township: n/a | Watersource: Catoctin Creek.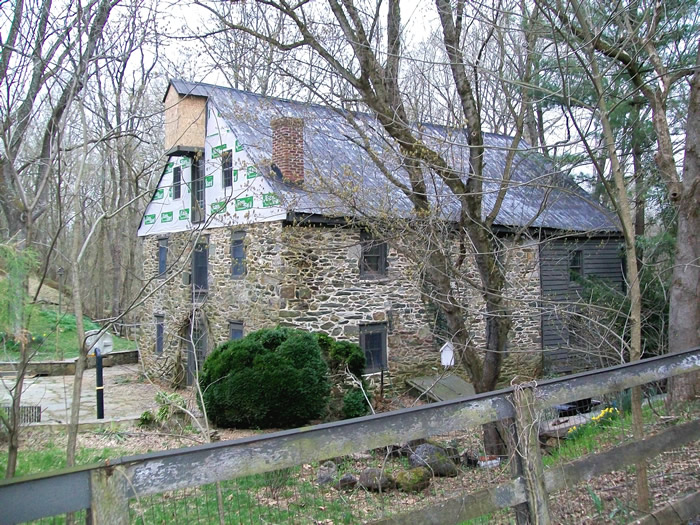 Picture: Robert T. Kinsey 03/28/2010
Richard Brown, a devout Quaker from Bucks County, Pennsylvania, built the first mill, probably a log mill, along the Catoctin Creek, at what would later become Taylorstown, in the 1730's. Brown's son Mercer, sold the his tract & that of his mothers top Thomas Taylor of Frederick, Maryland, also a Quaker.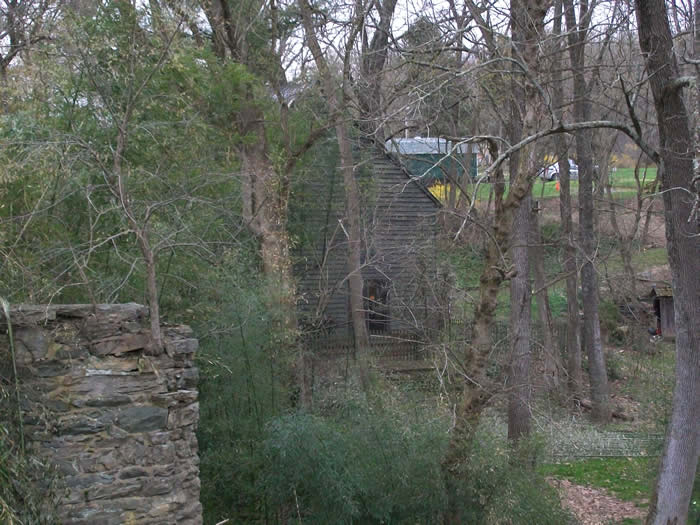 Picture: Robert T. Kinsey 03/28/2010
*The one abutment of the old Taylorstown iron-truss brige that spanned Catoctin Creek by the mill until replaced by the current bridge in the 1960's.* Taylor, while living at Hunting Hill, Brown's 1737 stone homestead on the hill above the mill, constructed a new stone and frame, two story mill about 50 yards north of the log mill. The new mill was built using mostly slave labor, but wages were paid, either to the slave or his owner. Many initials were carved into the builsing stones comprizing the mill. Quarter acre lots were sold surrounding the mill and Taylorstown sprang to life.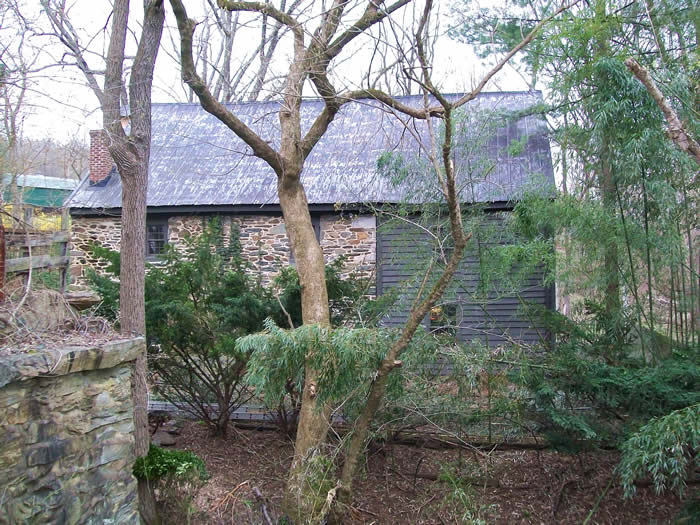 Picture: Robert T. Kinsey 03/28/2010
One account has the mill being burnt by the Confederates durning the Civil War, when actually the burning, by a small "Union troop" was fended off by 4-5 men along with the owner, Mr. Williams. Massive chestnut beams and support posts are as good a condition today as when the mill was built.
The Taylor family operated the mill til about 1850. Millard C. Myers owned and operated the mill from 1912 thru 1958. The water wheel was sold in 1911 to the nearby Oatlands Plantation Mill & the mill then converted to steam. Steam was discontinued in 1932, when the mill from thereon used electricity to operate as a livestock feed mill. Ms. Anna Hedrick, instrumental in saving the mill and town from a proposed dam on the Catoctin, bought the mill in the late 1950's, then sold it as a private residence in the late 1960's. In 1976, the mill was owned by Mr. & Mrs. Philip Erenkranz and may still be today. Some information rephased from Wikipedia.com.
No matter what will be the test, God will take care or you, Lean, weary one, upon His breast; God will take care of you. "God Will Take Care of You" by Civilla D. Martin
(From the hymnal: Sing to the Lord)
Directions: This mill is located about 9.5 miles north of Leesburg in the small village of Taylorstown, at the west junction of Sh 665 and Sh 663, at Catoctin Creek bridge, just east of the junction with Sh 688. Located with the Taylorstown Historic District.
Upload Pictures