Burnt Cabins Mill
Fulton Co. | Pennsylvania | USA | Earlier mill 1770, current mill 1840
Township: Dublin Twp. | Watersource: Little Aughwick Creek.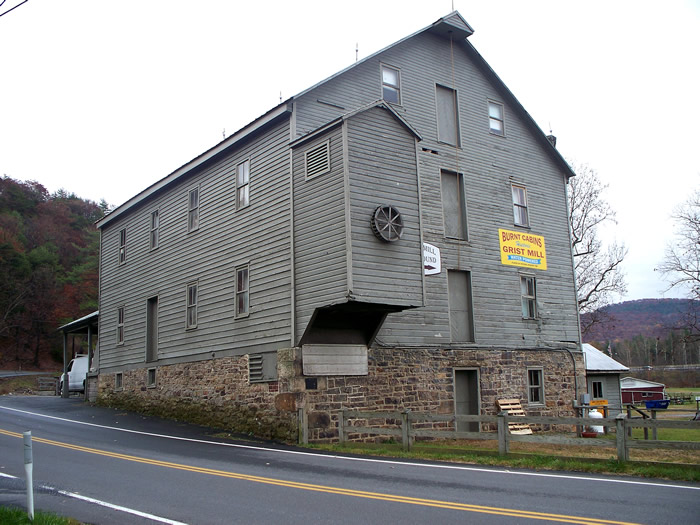 Picture: Robert T. Kinsey 11/16/2008
Burnt Cabins Grist Mill alonside Grist Mill Road/Sr 4004. Us 522 can be seen in the distance to the right of the mill.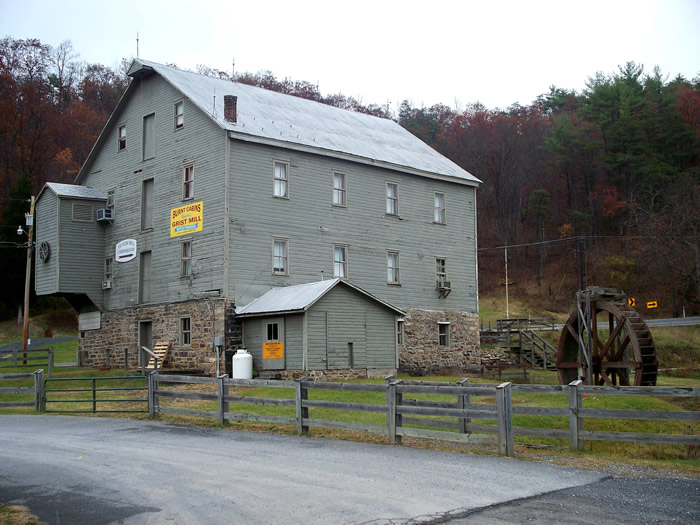 Picture: Robert T.Kinsey 11/16/2008
The mill seat dates back to about 1770, although some believe the first mill was built as early as c.1750.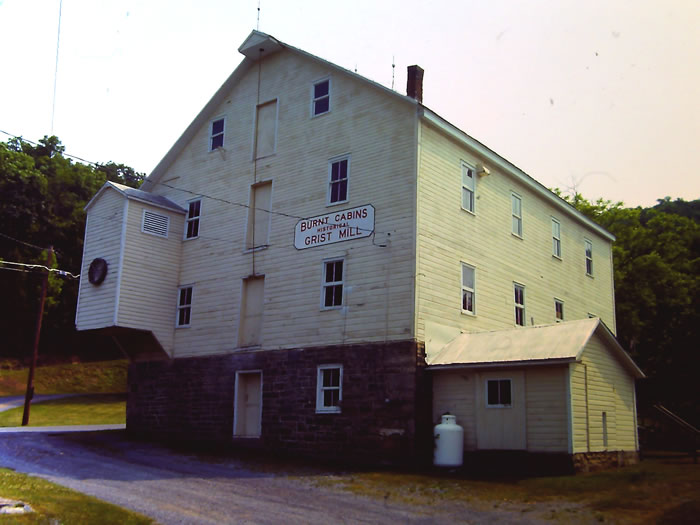 Picture: Phil Schmitz 05/26/1993 submitted 11/05/2009
The mill pictured on May 26, 1993 by Phil Schmitz. It is much the same as today, except being painted light yellow instead of grey.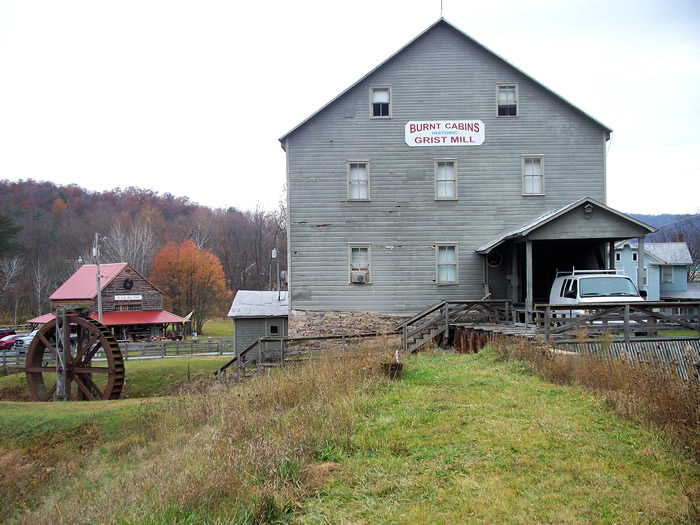 Picture: Robert T. Kinsey 11/16/2008
John Burd settled the land here on Little AUghwick Creek in 1770 and built a hotel, a trading post and the first mill. The trading post was, at that time, on the edge of the frontier.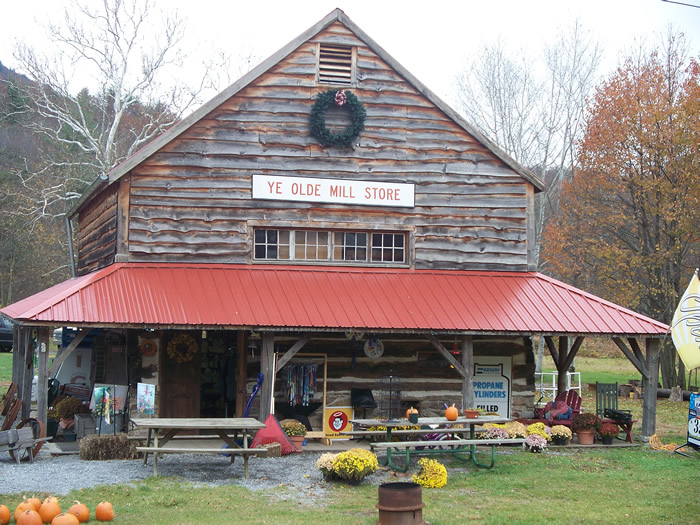 Picture: Robert T. Kinsey 11/16/2008
Ye Olde Mill Store, next to the mill; built either through the labors of the owners since 2006, Greg & Dawn Harnish, or built by the previous owners from 1969, the Blattenberger family.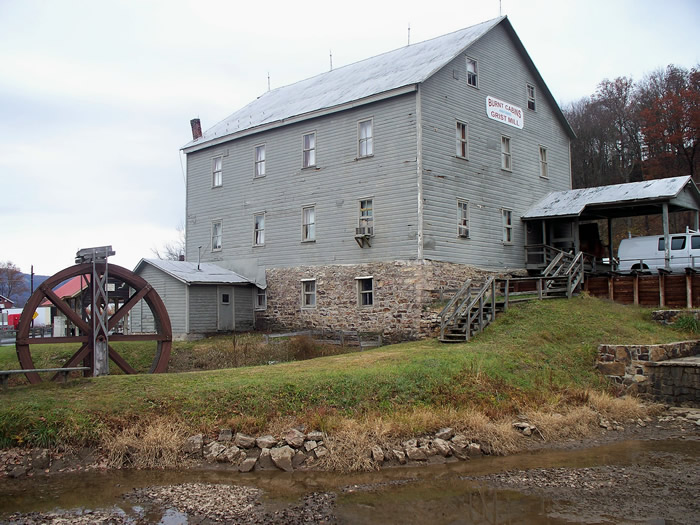 Picture: Robert T. Kinsey 11/16/2008
This mill has been the mill of record since 1840.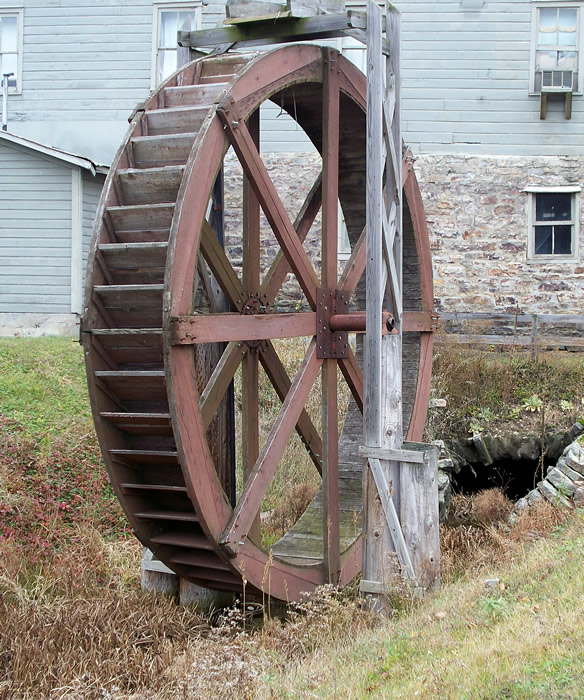 Picture: Robert T. Kinsey 11/16/2008
The water wheel at the Burnt Cabins Mill, this one purely for aesthetic purposes.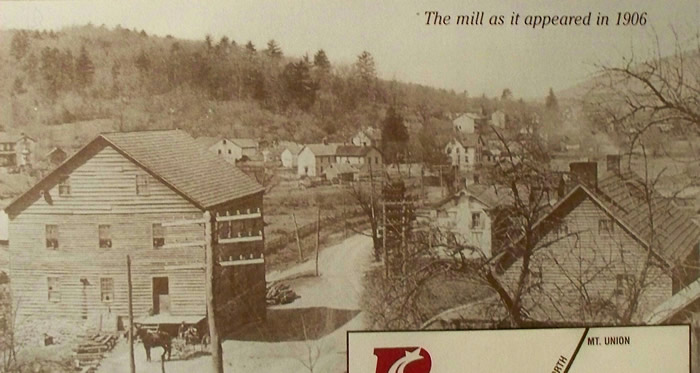 Picture: Photographer unknown
A vintage photo of the Baldwin Mill, which later became Burnt Cabins Grist Mill, and the surrounding community of Burnt Cabins Mills taken c. 1906.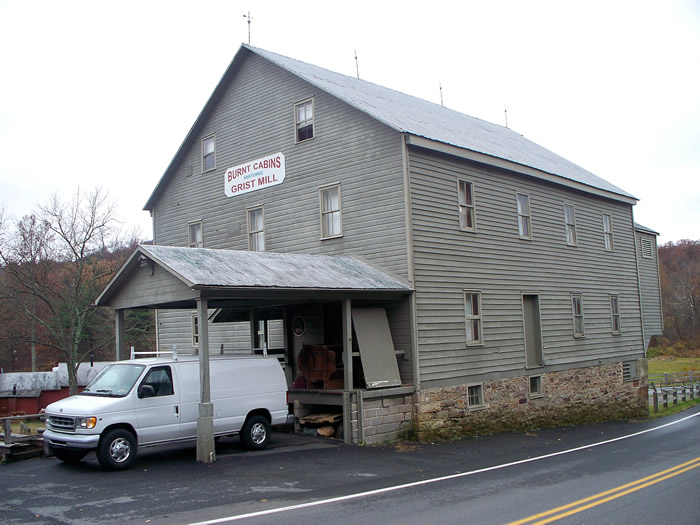 Picture: Robert T. Kinsey 11/16/2008
Some other owners of the early 1900's were the Baldwin family and the Mellott family
"If you value your lives, don't do any work on the Sabbath. Don't carry anything through the city gates or through the door of your house, or anywhere else. Keep the Sabbath day sacred! I gave this commandto your ancestors, but they were stubborn and refused to obey or to be corrected. But if you obey, then Judah and Jerusalem will always be ruled by kings from David's family.
(Jeremiah 17:21-25a CEV)
Directions: From the Pa Turnpike, exit at Willow Hill. Go south on Pa 75 to Fannettsburg and go west on SR 4004/Fannettsburg Road for 5 miles to Burnt Cabins. SR 4004 will become Grist Mill Road after crossing the mountain. When it meets US 522, the mill will be on the right.
Upload Pictures