Scio Feed Mill / Scio Feed & Country Store
Linn Co. | Oregon | USA | u/n
Township: n/a | Watersource: Electricity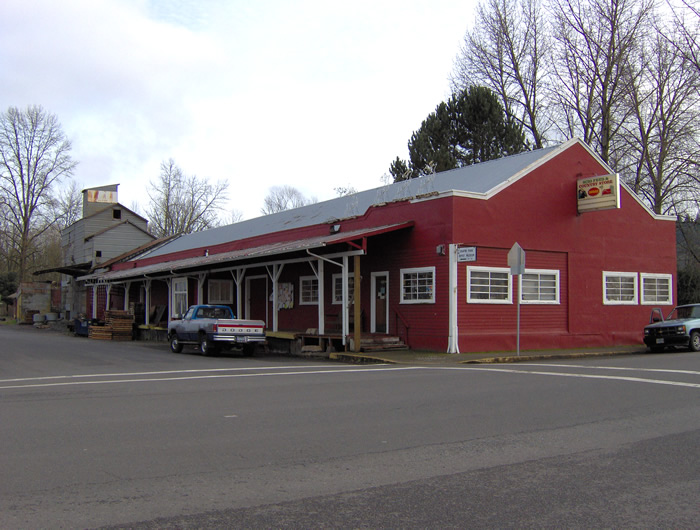 Picture: Jim Miller 01/18/2006
The Country store/feed mill is about equally feed store and country store, including many craft and nick-nack items. This is the country store where "Big Red" was so cruelly attacked and killed by a dog which jumped from the open window of a customer's parked car just a few months after these photos were taken. The Rhode Island Red rooster had taken up residence in Scio at the Mill & Country Store about 8 years before, and had become a great favorite of the townsfolk. He achieved national attention, CNN and Fow News, because of his habits and lifestyle. He has been sorely missed.
Picture: Jim Miller 01/18/2006
The mill may has been water-powered at one time, as Thomas Creek runs right behind the buildings, but it was probably always electrically powered. The owners in 2006 were Audie & Marian Heikkila.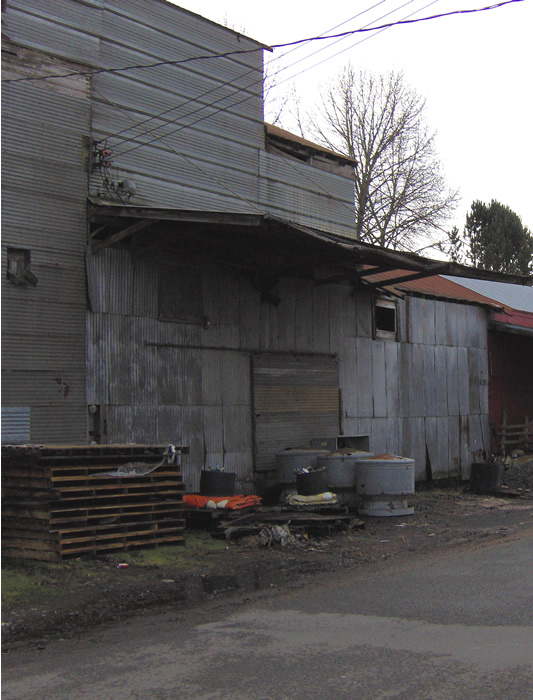 Picture: Jim Miller 01/18/2006
The mill grinding section seems to be closed and not operating, but feeds of all kinds are still sold from the mill portion of the country store. The highest part of the steel clad mill structure bears a hardly ledgible sign: Swift Feeds.
Picture: Jim Miller 01/18/2006
On back S. Fourth Ave. is the West Scio Train Depot, moved to Scio and installed in a small park just behind the old mill/country store.
"The prophets did not think these things up on their own, but they were guided by the Spirit of God."
(2 Peter 1:21 CEV)
Directions: Located a block north of Sh 226/Albany-Lyons Hwy, as it makes the turn in from north to east, at N Main St. and NE 1ST St. in Scio, between Albany and Mehama, Or.
Upload Pictures