Craigsville Milling Co. / Wallace Roller Mill / Daniel Mill
Augusta Co. | Virginia | USA | c. mid 1800's
Township: Craigsville Twp. | Watersource: Byrd Spring Creek, a trib. to Little Calfpasture R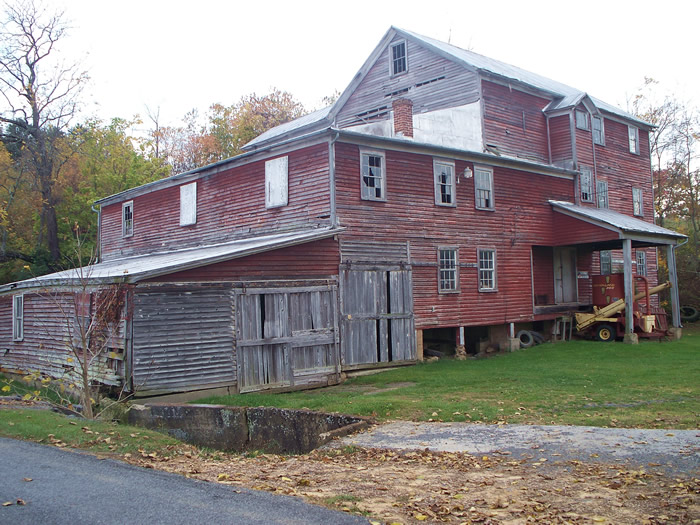 Picture: Robert T. Kinsey 10/15/2008
It is not known precisely when this mill was built. It is known that it was called Wallace Mill in its earliest times. Moses Wallace owned 157 acres of land c. 1800.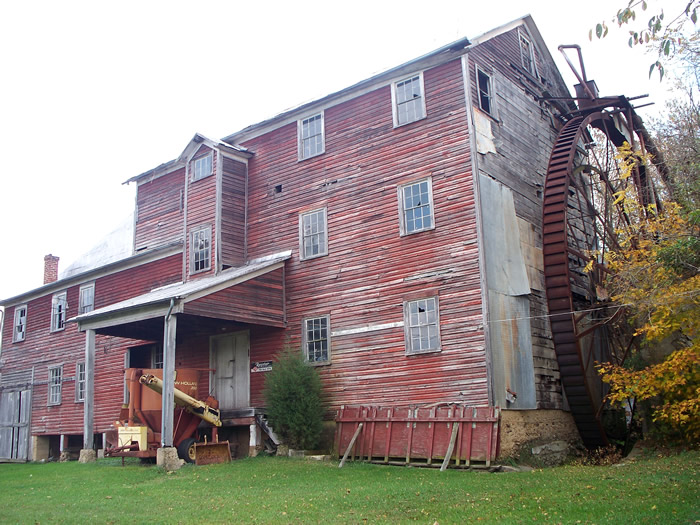 Picture: Robert T. Kinsey 10/15/2008
His son Samuel B. Wallace purchased an interest in the property known, as Wallace, from Robert S. Craig in 1876. Craig, at some point, must have purchased some of Moses' property.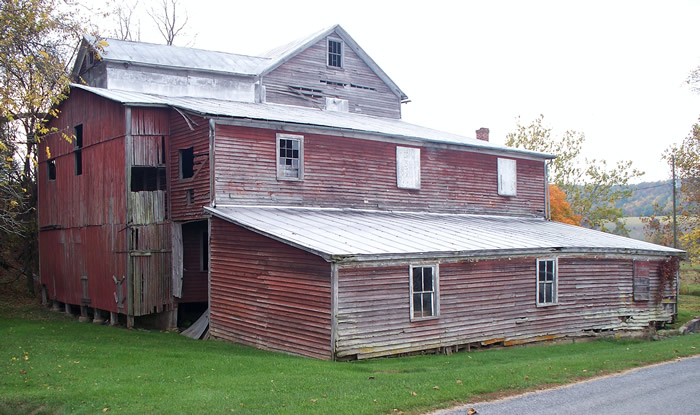 Picture: Robert T. Kinsey 10/15/2008
In 1883, Samuel and Elizabeth Wallace sold their interest back to Robert Craig. In 1884 the mill appears on an atlas as "R. S. Craig's Mill". The 39' X 2' waterwheel appears to be a pitchback wheel. The penstock delivered water to almost the top of the rear side of the wheel. The buckets, opening towards the rear, would fill and the wheel would turn front moving up and over the top toward the back of the wheel. In other words, backwards from an overshot wheel. The large gearing on the wheel meshed with a gear mounted on a shaft that went through the mill wall to drive the interior machinery.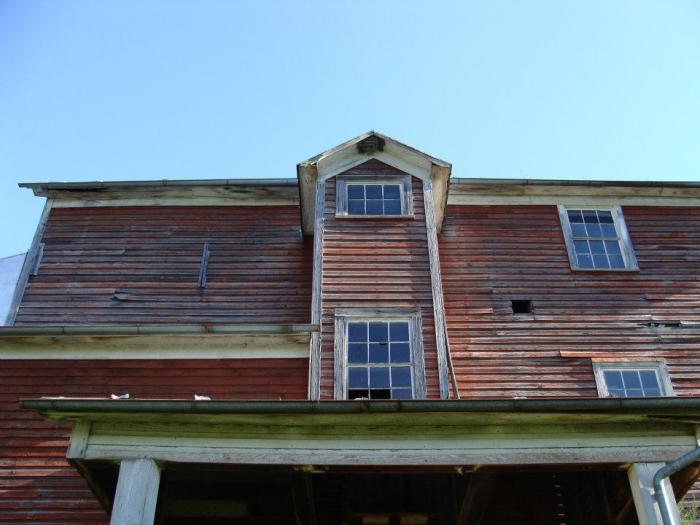 Picture: Vicky Nuffer Lewis
A shot of the front of the mill, looking up.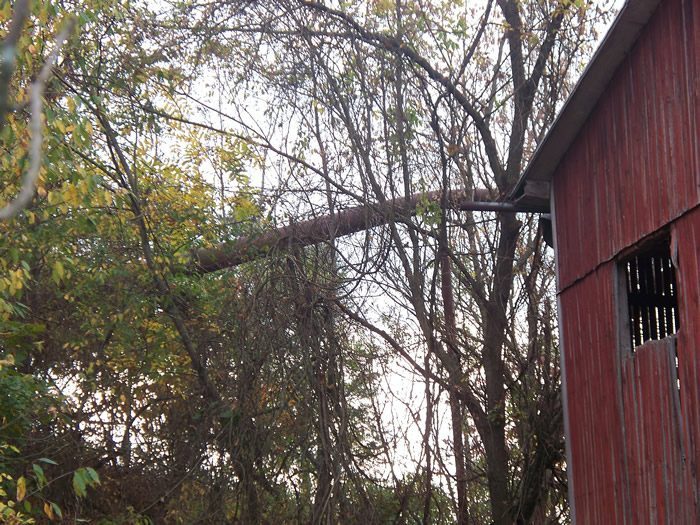 Picture: Robert T. Kinsey 10/15/2008
In 1898, Samuel's son, Oswald S. Wallace, and Ellen Wallace owned the mill property or a part of it. It is unsure when they acquired the mill, but they retained it until 1915.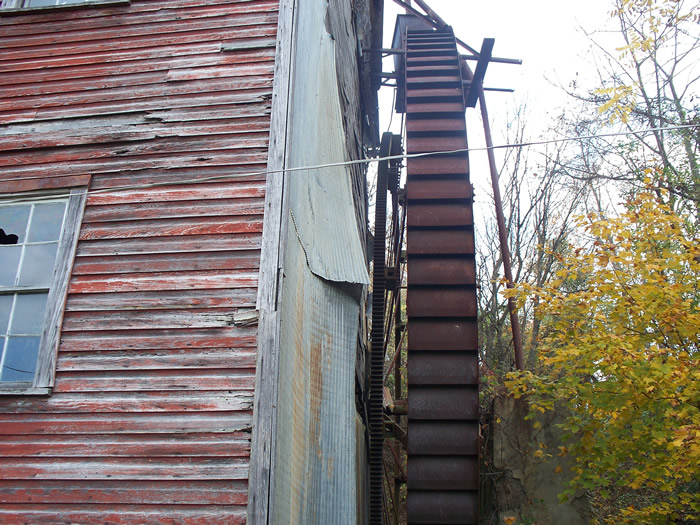 Picture: Robert T. Kinsey 10/15/2008
The Wallace family, through 3 generations, either owned the mill or retained an interest in it. Oswald Wallace, known as "O. S.", probably installed the roller milling equipment, for under his ownership the mill was known as the "Wallace Roller Mill".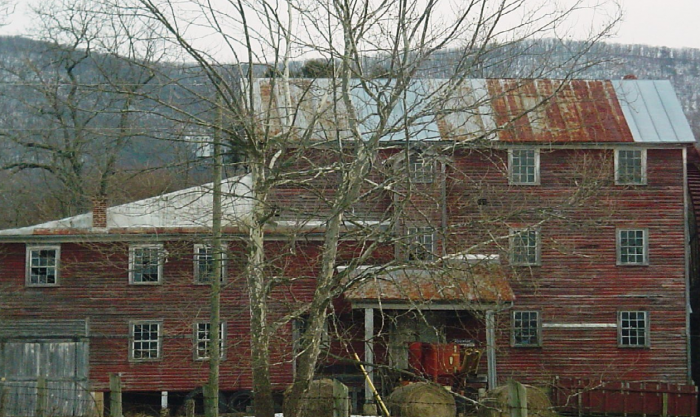 Picture: Vicky Nuffer Lewis
Another view of the front of the mill.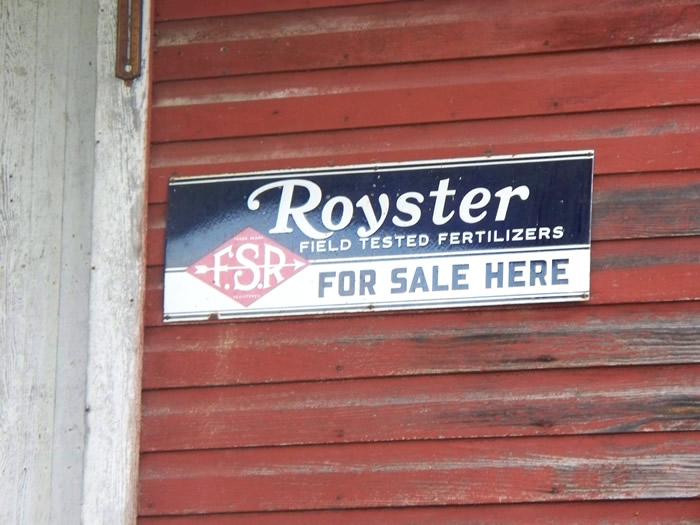 Picture: Robert T. Kinsey 10/15/2008
Deeds show that Wallace sold the mill to Wilmer O. Shank in 1915. Shank operated the mill for 5 years, then he sold it to Clyde Hiner in 1920. Hiner operated it until 1943 when he sold it to Justinian Daniel. Daniel continued operations until early 1956, when he closed it down as a commercial mill. Two commercial flours produced by the Daniel mill were "Ladies Choice" and "Pride of Augusta". For a short period of time, it was used to grind feed for the owner.*Update: My grandfather, Forrest "Pete" Campbell, worked for Justinian Daniel on and off throughout his adult life as farm manager. During the 1980s into the 1990s, he worked out of an office located in the Wallace Mill. As children, my brothers and I frequented the mill marveling at the giant wheel. Mr. Daniel was not only my grandfather's boss, but also a dear friend. Wallace Mill holds very special memories for our entire family. It is my hope through this inquiry to find at least one flour/feed sack stamped "Pride of Augusta". I have contacted Mr. Daniel's daughter, Justine Tilman, inquiring into where I might find one. She was not able to help me. Janice M. Troxell 08/18/2013 *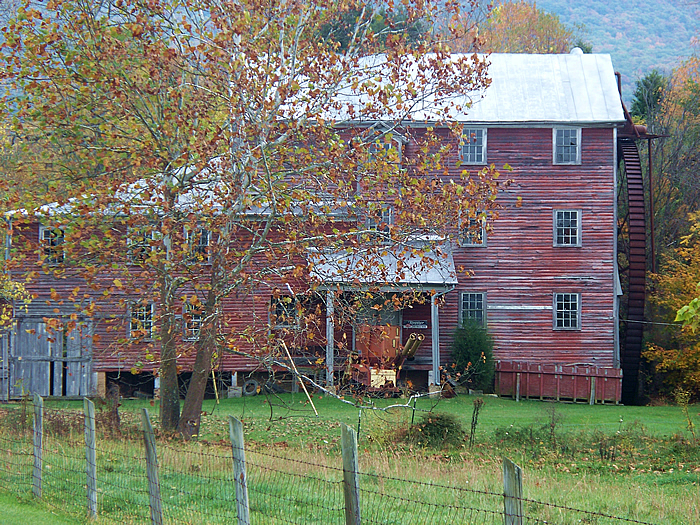 Picture: Robert T. Kinsey 10/15/2008
At one time, everything was run by water power; except, for the hammer mill, which was run by a V-8 gasoline engine, and a mixer, which was run by electricity. The 3 sets of rollers were manufactured by the Sprout Waldron Co. of Muncy, Pennsylvania. There were also 2 sets of burr stones. Water was first diverted to the mill by a 4' raceway off Big Gap Branch, a trib. of the Little Calfpasture. Later a dam was built 3/4 of a mile away. The mill race was filled in at some point in time, and a large, nearly 2' diameter pipe was installed to carry water from a mill pond filled by "the Old Campbell Spring".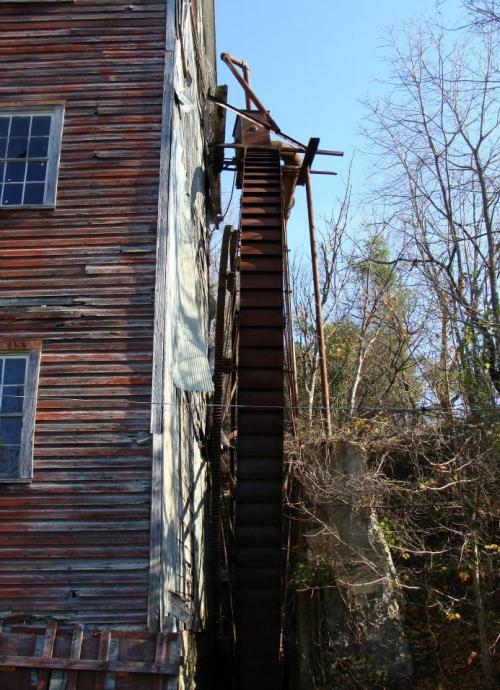 Picture: Vicky Nuffer Lewis
The very large wheel that powered the grinding and every other mechanical process of the milling operation.
"You are the one that put me together inside my mother's body, and I praise you because of the wonderful way you created me. Everything you do is marvelous! Of this I have no doubt."
(Psalm 139:13 & 14 CEV)
Directions: At Craigsville on Va 42, take Sh 684/E. Railroad Ave. about ? mile; Sh 684 becomes Little River Road. Follow SW for about 3 miles to junction with Sh 683/Wallace Mill Road on the left. Go 0.3 miles, crossing Estaline Valley Road, to the mill on the right
View Larger Map
Upload Pictures